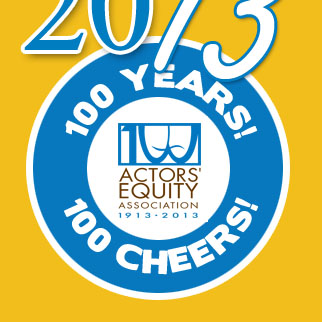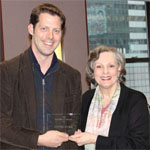 Dana Ivey and David Furr
The AEA Foundation's St. Claire Bayfield Award is presented to David Furr, honoring his performance as Orlando in Shakespeare's As You Like It at the Delacorte Theatre. Students from his alma mater, Appalachia State University, observe the presentation by Equity Councillor Dana Ivey.
Getting to know you: Equity Members in South Florida meet with President Nick Wyman at the Plaza Theatre in Manalapan. Topics on agenda include upcoming negotiations, healthcare and a recent stagehands strike at the Kravis Center.
Council overwhelmingly ratifies a new four-year SET (Short Engagement Touring) Agreement, with significant salary and per diem increases. Since 2008, 30 tours have used the SET Agreement, generating 20,700 work weeks - jobs that would otherwise be non-union. ED Mary McColl, who served as Chief Negotiator, says: "Because of SETA, audiences nationwide benefit by seeing Equity productions that employ our members."
Equity members in Atlanta raise a record-breaking $27,000 for Open Hand, the nation's largest community-based provider of home-delivered meals and nutrition services.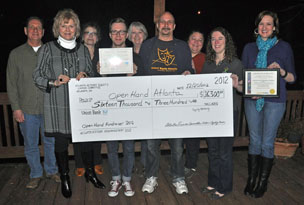 Equity Members Raise $27K
Photo courtesy of Equity News
Equity has lost two past members of Council: Conrad Bain on January 14 and Paul Ainsley on January 19.
Not only is The Phantom of the Opera celebrating its 25th anniversary on Broadway tonight, but it is actually the first Broadway show ever to do so!
The Theater Hall of Fame at New York's Gershwin Theatre celebrates its new inductees today, including Equity Members Betty Buckley and Sam Waterston, playwrights Christopher Durang and Paula Vogel, directors Andre Bishop and Michael Kahn and, posthumously, costume designer Martin Pakledinaz
Accessibility is alive on Broadway! Disney's The Lion King and Newsies have entered into an alliance with The Broadway Accessibility/ Audience Expansion Initiative, a partnership between Alliance for Inclusion in the Arts and G- PASS, a service company utilizing technology from Sound Associates Inc. to create I-Caption for deaf and hard-of-hearing patrons and D-Scriptive, for blind and low-vision patrons.
Wheelock Family Theatre, Oliver! Jane Staab as Fagin
photo by Gary Ng
Speaking of accessibility, the Wheelock Family Theatre has been recognized for years for its commitment to accessible, multi-cultural, and multi-generational productions for families (they won Equity's Rosetta LeNoire Award in 2000). This month, the theatre's co-founder and co-artistic director, Jane Staab, is taking on the role of Fagin in their production of Oliver!, a role made famous by such male actors as Ron Moody, Clive Revill and Rowan Atkinson.
Whew! That was close! As the year begins, Congress approves a last minute budget deal to avoid the so-called Fiscal Cliff!
Former NYC mayor Ed Koch dies at the age of 88.
VITA, the Volunteer Income Tax Assistance program for Equity members, opens its doors for its 37th season at 5 am. Actors line up in the wee hours to get free tax assistance, including Amy Fortgang (Connor) who has used VITA for 26 years - "I've been with VITA through two marriages, a divorce, raising three child dependents, several career shifts and a $60K game show win - and VITA always gets it right."
Pope Benedict XVI announces he will resign, making him the first Pope in nearly 600 years to not die in office.
A meteor explodes over the Russian city of Chelyabinsk, injuring 1,491 people and damaging over 4,300 buildings. It is the most powerful meteor to strike Earth's atmosphere in over a century.
San Diego members celebrate both Black History and Women's History months with a single event today: An Afternoon with Lydia Diamond. A performance of Diamond's adaptation of Toni Morrison's The Bluest Eye followed by AEA sponsored reception. Ms. Diamond's appearance is sponsored by the Mo'olelo Performing Arts Company, which produced her play Stickfly in 2011
George Ives, a member of Equity Council who served as Western Regional Director and Assistant Executive Secretary from 1990-1997, dies in Los Angeles
Bravo! Equity receives an honorary Column Award at the Dallas/Fort Worth Theatre Metroplex. Western Regional Director Mary Lou Westerfield accepts the award and a Proclamation from Texas State Senator Wendy Davis.
Actor's Equity receives an historic National Charter from the AFL-CIO at the Federation's Executive Council meeting in Lake Buena Vista, FL. AEA 1st VP Paige Price and Executive Director Mary McColl accept the charter from AFL President Richard Trumka, which gives Equity a stronger association in the labor community and strengthens Equity's position in the entertainment industry. Price says: "Receiving the charter on the threshold of our Centennial renews our commitment to working on behalf of our members and all Americans to create a workplace where there is fairness and dignity for everyone."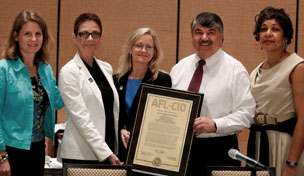 (L-R) AFL-CIO Secretary Elizabeth Shuler, AEA E.D. Mary McColl and1st VP Paige Price, AFL-CIO President Richard Trumka and VP Arlene Holt-Baker.
After 36 years, the Kentucky Repertory Theatre, also known as the Horse Cave Theatre, is closing its doors. A local newspaper reports, "Located in a Hart County town of a little more than 2,000 people, it was something a lot of larger cities, including Lexington, had not been able to pull off: a professional theatre, affiliated with Actors' Equity."
At its February meeting, Council passes a resolution making the San Francisco Bay Area the 27th and newest Equity Liaison area. Originally the BAAC, or the Bay Area Advisory Committee, the new group will be called the Bay Area Liaison Committee. National Director Flora Stamatiades says, "We could not be more pleased to have the Bay Area join the Area Liaison community, allowing Equity to continue its practice of direct outreach to its local membership."
The Equity Foundation's Joe A. Callaway Awards for best performance in a classic play goes to two actors who appeared in the same production: Merritt Wever and Michael Shannon, in Soho Rep's Uncle Vanya.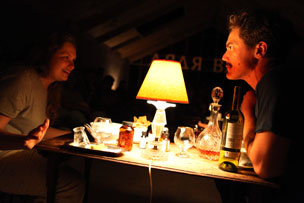 Meritt Wever and Michael Shannon, Uncle Vanya
Photo courtesy of Soho Rep
The new Audition Center finally opens on the 16th floor of NYC's Equity Building. The original second floor Audition Center, which opened in 1980, had been long overdue for upgrades and the opportunity came to move to the 16th floor with no cost to the union! With Wi-Fi, well-tuned pianos, sprung wooden floors, and designed to keep sound from leaking from one room to the next, the two new studios can accommodate dramatic, singing and dancing auditions. The new director of the Audition Center is Andrea Murray.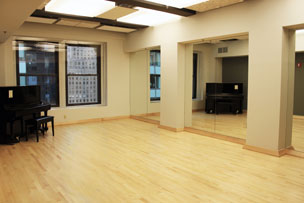 Smaller Audition Room / Warm-Up Area
Photo: Stephanie Masucci
After just two days in conclave, Cardinal Jorge Mario Bergoglio of Argentina is elected the 266th pope, taking the name Francis. He is the first Jesuit pope, the first pope from the Americas, and the first pope from the Southern Hemisphere.
The Eastern Region Equal Employment Opportunity Committee celebrates Women's History Month with "Opening Up Possibilities for Women Through Cross-Gender Casting": an evening featuring scenes demonstrating a variety of ways to create more opportunities for women in Shakespearean productions and beyond by utilizing non-traditional casting via cross-gender and gender-neutral casting. Joanne Zipay, Artistic Director of the Judith Shakespeare Company, leads the event. Additional directors presenting work are Rebecca Patterson, Artistic Director of The Queen's Company, and Emily Davis, Artistic Director of Messenger Theatre Company. The coordinator is Equity member Gael Schaefer.
Everything old is new again: Broadway sees revivals of beloved musicals this season: that ever-optimistic Annie returns for her 35th anniversary, and Stephen Schwartz's Pippin returns for the first time in nearly 40 years!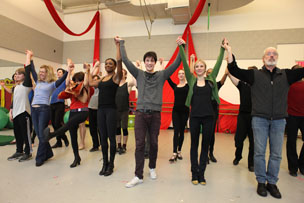 Pippin
Photo: Walter McBride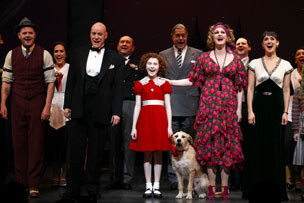 Annie
Photo: Walter McBride
Equity receives the Ruth Foreman Award at South Florida's Carbonell Awards at the Broward Center. Eastern Regional Vice President Melissa Robinette and South Florida Liaison Irene Adjan accept the honors.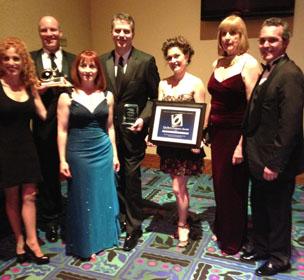 Melissa Robinette and members of the South Florida Liaison Committee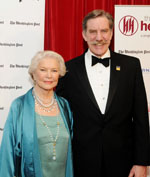 Ellen Burstyn and Nick Wyman
Photo: Theatre Washington
AEA receives the prestigious Helen Hayes Tribute at the 29th Annual Helen Hayes Awards in Washington DC. The HH Tribute recognizes distinguished theatre professionals who exemplify great commitment to the professional theatre. For the first time in the Award's history, the tribute was presented to an organization. Former AEA President Ellen Burstyn and current President Nick Wyman accept the honors. The tribute recalls the famous case that Equity won on behalf of Miss Hayes, whose tour of Collette was cancelled when it was discovered she was pregnant. Equity prevailed in the arbitration, and her daughter would forever be known as the "Act of God" baby.
AEA representatives attend Arts Advocacy Day in Washington, D.C.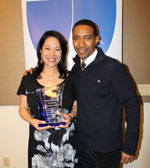 Christine Toy Johnson, Charles Randolph-Wright
Photo: Stephanie Masucci
Vote! Equity's 2013 Council elections get underway at simultaneous meetings in New York, Chicago and Los Angeles. The Rosetta LeNoire Award, given to an individual, theater or producing organization with an exemplary record in the hiring or promotion of ethnic minorities, female actors and actors with disabilities through multi-racial and/or non-traditional casting, goes to Councillor/EEO Committee Co-Chair Christine Toy Johnson.
Multiple bombs explode near the finish line at the Boston Marathon, killing three and injuring hundreds. Later in the week, after an intense, city-wide manhunt and lockdown, one suspect is killed by police and the other is captured.
It's a wrap! VITA finished its 37th Tax Season. This year, VITA volunteers helped prepare over 3000 federal, state and local returns.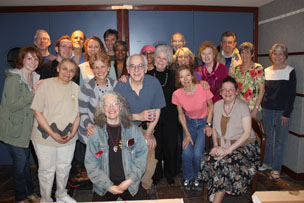 VITA volunteers celebrate the end of the 2013 tax season
Photo: Stephanie Masucci
Career Transition for Dancers receives a 2013 Tony Award for Excellence in the Theatre. CTFD is the only non-profit organization in the US solely dedicated to helping dancers discover rewarding careers when performing is no longer an option.
E.D. Mary McColl's contract is renewed for a three-year term by a unanimous vote of Council.
Move over Mousetrap, The Fantasticks, the world's longest running musical, turns 54.
Glenn Bruner is the recipient of the 2013 Lucy Jordan Recognition Award The award will be presented to Bruner by AEA's Western Regional Board and Stage Managers' Committee on Monday, May 6 during a special member reception at Tucson's historic Temple of Music and Art. A dedicated member of Actors' Equity Association since 1981, Bruner is now in his 13th season as production stage manager at the Arizona Theatre Company (ATC).
The City Council of Chicago issues a proclamation honoring AEA's Centennial
Alan Eisenberg and Trevor St. John-Gilbert
Photo: David Lotz
Bravo! Trevor St. John-Gilbert, University of Michigan Class of 2013, is the winner of the AEA Alan Eisenberg Award scholarship that recognizes outstanding talent and career potential.



Illinois Governor Pat Quinn issues a proclamation honoring AEA's Centennial.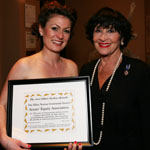 Eastern Regional Vice President Melissa Robinette and Lifetime Achievement honoree Chita Rivera
Photo: Paul Lyden
The prestigious Elliot Norton Awards recognize Actors' Equity "for 100 years of representing and protecting creative artists both onstage and on social platforms nationwide, thus nurturing the growth of professional American Theatre.
AEA's Centennial is celebrated in Chicago. The gala is hosted by AEA President Nick Wyman and Executive Director Mary McColl.
AEA Assistant ED Steve DiPaola, ED Mary McColl, President Nick Wyman
Equity's Eastern Regional Board ratifies a three-year contract with ANTC (Association of Non-Profit Theatre Companies. Significant improvements are achieved in the areas of salary, auditions, dance captain increments, health contributions, minors, stage fighting and stunts.
AEA members overwhelmingly ratify a new four-year LORT contract, which governs employment in 100 regional theatres across the US. Equity achieves a 12.55% salary increase over the term of the agreement, coming out of a three-year salary freeze. In 2011-2012, LORT theatres provided almost 58,000 work weeks and over $59 million dollars in member earnings.
Council ratifies a four-year agreement with the University Resident Theatre Association (URTA). Equity achieves an 11% salary increase and protections for members on raked stages.
Katie Wesler and Robert Ariza are the recipients of the ninth annual Roger Sturtevant Musical Theatre Awards, given to Equity Membership Candidates.
After a 23-year career at AEA, Western Regional Director Mary Lou Westerfield announces that she will step down at the end of 2013. She joined Equity's staff in 1990 as a Business Rep, and also worked with the Actors Work Program until becoming Equity's National Director, Policy. For many years, she managed the NY VITA office with Secretary-Treasurer Conard Fowkes and served on several boards, including Career Transition for Dancers, Theatre Authority and the Actors Fund Western Council.
Thanks for voting! Sixteen Equity Members are elected to serve on Equity's Council in the 2013 Elections.
NPR broadcasts an interview with Nick Wyman and book author Robert Simonson highlighting the significant contributions that AEA has made to the American theatre.
May 26 – 100 Years! 100 Cheers!
Mayor Michael R. Bloomberg proclaims May 26 "Actors' Equity Day" in New York City
AEA members post hundreds of tweets, photos and birthday wishes on social media.
Arkansas Rep, Avenue Q celebrates AEA's 100th anniversary!
Celebrating Equity's 100th in Los Angeles, AEA rented out the elegant ballroom of the Loews Hollywood Hotel, which is just steps from the Hollywood Walk of Fame. The real stars, however, were the 300 guests (nearly 200 of whom were members) gathered for the anniversary bash.
(L-R) AEA President Nick Wyman and AEA Executive Director Mary McColl with actor Kate Burton film director Michael Ritchie.
The 23rd Annual Artvoice Theatre Awards, or the "Arties," are presented in Buffalo, N.Y., honoring local productions from the area's 2012-2013 theatre season.
At the 67th Tony Awards, the musical Kinky Boots and the play Vanya and Sonia and Masha and Spike are the big winners.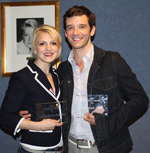 Annaleigh Ashford and Michael Urie garner the 2013 Derwent Award for the most promising performers on the New York scene.

Old and new meet as Equity gives its Clarence Derwent Award for most promising performer on the New York scene and its Richard Seff Award for veteran actors in a supporting role. The Derwent Awards this year go to Michael Urie for his one-man performance in the play Buyer & Cellar and to Annaleigh Ashford for her performance in Broadway's Kinky Boots. The Richard Seff Awards went to Kristine Nelson for her performance in the play Vanya and Sonia and Masha and Spike and to former Councillor Lewis J. Stadlen for his performance in The Nance.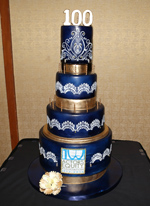 Bringing the celebration to the east coast, AEA, along with Broadway celebs, industry and labor leaders and more than 400 members, filled the New York City Hilton with 750 celebrants to revel Equity's 100th Anniversary.

Tom Viola, executive director of Broadway Cares/Equity Fights AIDS since 1997, receives the 2013 Patrick Quinn Award for Distinguished Service to Actors. Marty Casella, a member of the award selection committee and Quinn's partner said, "Patrick adored, admired and respected Tom and his dedication to a great cause. We are pleased to honor Tom for that dedication and salute him for a job well done."
Thirty-six hours. That's how long 47 female Bay Area theatre artists worked together starting today. The group was writing, directing, rehearsing and performing a series of six new ten-minute plays. This marathon theatre creation was a benefit for the San Francisco SafeHouse shelter and rehabilitation facility for women.
You can't tell from the youthful bodies on display, but Broadway Bares turns 23 this year. This year's edition, "Broadway Bares 23: United Strips of America," features 220 dancers and raises an all-time high of $1,430,241!
Equity, along with its sister union, SAG-AFTRA, hosts the annual International Federation of Actors (FIA) Executive Committee Meeting. FIA's mandate, according to Christine Payne, the General Secretary of UK Equity, is very familiar to AEA members: "Improve the social and professional protection of performers, including intellectual property rights, taxation, social security and health and safety." Representatives from two dozen unions — and guilds from around — the world pack into AEA's National Council Room to explore issues of shared interest. Topics for discussion include ratification and implementation of the 2012 Beijing Performers Copyright Treaty, the creation of best practices guidelines on child performers and the growing challenge of international co-productions.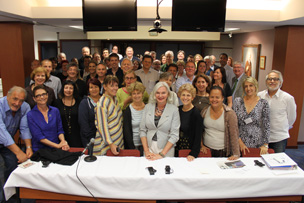 The annual International Federation of Actors Executive Committee Meeting.
In a pair of 5-4 decisions, the U.S. Supreme Court rules that the federal government must provide equal treatment to same-sex spouses. Justice Anthony Kennedy writes that Congress cannot undermine a state's decision to extend "the recognition, dignity and protection" of marriage to same-sex couples.
Philadelphia Mayor Michael A. Nutter proclaims July 1, 2013 Actors' Equity Association Day
15 million people take to the streets in demonstrations throughout Egypt as protestors call for the resignation of their President, Mohammed Morsi. On July 3rd, Morsi is deposed by the military with Adly Mansour appointed interim president.
The 15th Annual Broadway Barks event takes over Shubert Alley, starring a cast of over 200 dogs and cats eager to star in a loving home! Co-founder Bernadette Peters says, "We started 15 years ago with six shelters and never dreamed that it would turn into this, with 27 shelters and rescue groups today."
In a special ceremony during the D.C./Baltimore liaison party at Arena Stage, The U.S. Department of Labor, also celebrating its 100th anniversary this year, inducts Equity into its "Century of Service Honor Roll of American Labor Organizations." Carl Fillichio, the Labor Department's centennial chair and its senior advisor for public affairs and communications, presented the award to AEA Executive Director Mary McColl, saying, "Actors' Equity has not just made life and work better for those who hold an Equity card. For the past 100 years, this union has made life and work better for every stage actor and stage manager in America. And the best is yet to come."
President Nick Wyman addresses the 67th Quadrennial IATSE Convention in Boston. Speaking to 800 delegates, Wyman warns of the rise of anti-union sentiment throughout the country.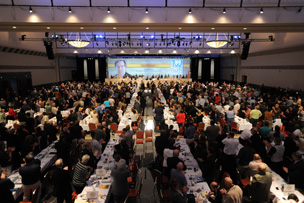 AEA President Nick Wyman receives a standing ovation at the 67th Quadrennial IATSE Convention.
Equity member Harvey Fierstein joins the Theatre Communications Group, the Broadway League, the Alliance of Resident Theatres/New York, religious organizations and sports league to support "Pardon the Interuption," a forum held at the Rayburn House Office Building in Washington, D.C. The forum is held to explore the protection of wireless microphones from the threat of harmful interference posed by the reorganization of the broadcast spectrum and a new generation of electronic devices.
More than 65,000 people attend the 13th annual National Black Theatre Festival in Winston-Salem, North Carolina. Founded in 1989 by Larry Leon Hamlin with the goal of uniting Black theatre companies, the NBTF has grown in size, with 35 Black theatre companies from across the world performing in the festival. Many of the companies utilize the Larry Leon Hamlin/Actors' Equity Code, allowing Equity members to perform at the festival.
Congrats! Now third in line for the British throne, Prince George Alexander Louis is born today to the Duke and Duchess of Cambridge – better known as Prince William and the former Kate Middleton of England. This is their first child.
Broadway mourns the passing of legendary publicist Shirley Herz (she worked on nearly 100 Broadway productions, including Fiddler on the Roof, The Royal Family and Singin' in the Rain.) In a career that spanned nearly 65 years, Ms. Herz received many awards including an honorary Tony Award.
After 17 years on staff, Central Regional Director Christine Provost resigns her post. "Chris has been a dedicated member of the staff and has worked tirelessly on behalf of the membership and the Association," says Mary McColl, AEA Executive Director.
Throughout August, Secretary of State John Kerry has been laying the groundwork for possible military action against Syria, citing what he called "undeniable evidence" that chemical weapons had been used against opposition forces. Today President Obama announces that he will seek congressional approval for an attack. Over the next few days, seizing on an ad-libbed comment by Kerry that Syria could avoid an attack if it gave up its chemical weapons, Russia provides a diplomatic way out. In less than three weeks, the U.N. Security Council unanimously adopts a plan for eliminating Syria's arsenal by the middle of 2014.
With its theme of "Dream. Innovate. Act.," the AFL-CIO holds its quadrennial Convention of its 57 member unions in Los Angeles and Equity is there! Now affiliated directly with the AFL-CIO, Equity is represented at the Convention by a large contingent of administration members including President Nick Wyman, First Vice President Paige Price, Third Vice President Ira Mont, Eastern Regional Vice President Melissa Robinette, Western Regional Vice President Doug Carfrae, and Councillors Francis Jue, Kelly Groud and Clarinda Rosss. Executive Director Mary McColl and National Communications Director Maria Somma were also in attendance. Special guest speakers at the convention include Senator Elizabeth Warren, Secretary of Labor Thomas Perez and economist Joseph Stiglitz.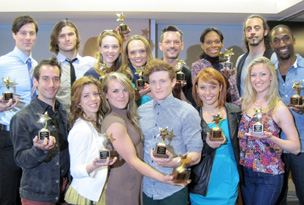 This year's Advisory Committee on Chorus Affairs award goes to the cast of the Broadway revival of Pippin.
In honor of AEA's 100th anniversary celebrations, historian Susan Olsen leads a special tour through New York's Woodlawn Cemetery, visiting those Equity members who rest there, including those who established Equity in 1913 — Clarence Derwent, and Laurette Taylor, the original Amanda Wingfield in The Glass Menagerie.
Equity's National Council Plenary is held in New York City. Over a two day period, officers and Councillors from around the country join their NYC counterparts for an intense discussion of Equity's governing structure and to explore how the union can best meet the turbulent present and future. Democracy was the watchword of the event as members sought to protect and retain Equity's member-driven character.
After failing to appropriate funds for the 2014 federal fiscal year, due to intense disputes over the funding of the new federal health-care law, the United States government is partially shut down. This move closes national parks and monuments, disrupts government agencies and puts about 800,000 federal employees on furlough. The shut down will end on October 16 in a bi-partisan deal.
After years of controversy, the Affordable Care Act goes live online, allowing people in 36 states who did not create their own sites to buy insurance online through exchanges. The site is immediately beset with technical issues and glitches, but the response time improves and more people can sign up as the year progresses.
This year's winners of Equity's Extraordinary Excellence in Diversity on Broadway awards go to Rodgers & Hammerstein's Cinderella and Horton Foote's The Trip to Bountiful.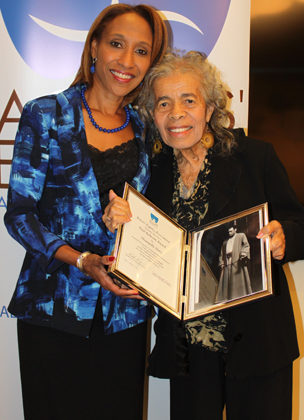 Equity EEO co-chair Julia Breannetta-Simpson and Shauneille Perry, the winner of Equity's 2013 Paul Robeson Award.

Equity's Paul Robeson Award is presented each year to an individual or organization which best exemplifies the democratic and humanist attitudes of singer and actor Paul Robeson. This year's Robeson Award goes to director, author, actor and educator Shauneille Perry.
Equity hosts "A World of Opportunity: Young Performers Career Workshop." Co-sponsored by SAG-AFTRA, this panel discussion is designed to allow the two unions to give the best information possible to young performers and their parents. This meeting comes just days after New York Governor Cuomo signed legislation that adds child models to the definition of child performers.
In one of the strongest storms ever recorded, at least 6,000 people are killed and more than three million people are displaced after Typhoon Haiyan makes landfall in the Philippines.
Sean Taylor takes the helm of the Equity Office in Chicago as Central Regional Director/Assistant Executive Director. This position oversees the union's operations in 16 states. A lawyer formerly at Chicago's Stellato & Schwartz, and a former assistant attorney general for the state of Illinois, Taylor was house counsel for AFTRA since 2004. He said, "I truly look forward to working closely with my fellow staff and Equity's leadership to create more work opportunities and stronger contracts for the membership in this region."
The U.S. and five other world powers strike an accord agreeing to ease sanctions on Iran for six months in exchange for steps to end its nuclear program.
Equity loses two friends as Joseph Ruskin, long-time member of the Western Advisory Board, dies on December 28th and Chuck Patterson, who served on Council from 1977 to 1987 and 1988 to 1993, passes away on December 23rd.
Revolutionary, activist, politician and former President of South Africa Nelson Mandela dies in his home in Johannesburg at the age of 95. The world mourns his passing.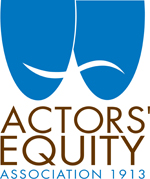 "Since it began nearly more than 100 years ago, Equity has been the symbol of excellence in the American Theatre. In plays and musicals on stages across the country, Equity members have inspired generations of theatre audiences, bringing life to productions that reflect and honor the human condition. In all of their work, Equity members have helped to influence and inspire generations of theatre audiences. Actors' Equity Association continues to celebrate and encourage theatre as an important element of America's cultural fabric. Here's to the next 100 years!"
- Nick Wyman
President, Actors' Equity Association