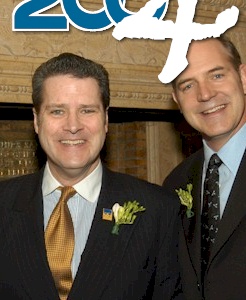 President Patrick Quinn, Central Regional VP Dev Kennedy at Equity's 90th Anniversary Gala at the Players
Alan Eisenberg calls her "A lady of great character and dignity": Lynn Archer, Councillor for 25 years, passes away. She chaired Equity's Stock Committee for many years and served as AEA Recording Secretary from 1982-1994. Running for reelection in 1995, she said something that would become a rallying cry in 2004, "We must maintain a national 'bottom line' for criteria which identifies an Equity company or theatre."
As the year begins, Equity is looking to June 27th when the Production Contract is scheduled to expire. Patrick Quinn calls it "the most important contract negotiation in our 90-year history," and he's not just exaggerating: the crisis on the road and escalating health costs are on top of the negotiators' list. "Every industry has been hit by the health care crisis, and now we're on the front line," says Quinn, "The outcome of these negotiations will affect everyone regardless of where they live."
Equity has seen its workweeks on the road drop by 44% due to non-Equity tours. This has also exacerbated the health crisis because of fewer contributions to the Equity-League Health Fund. During the fall of 2003, Council authorized $1.6 million for a road campaign to answer the crisis. Targeting such non-Equity tours as MISS SAIGONn produced by Big League Theatricals, then expanding to productions of OLIVER! and OKLAHOMA! The "Save the Road" Campaign's motto: "If It's Not Equity, It's Not Broadway."
First Vice President Mark Zimmerman leads the 2004 negotiating team: "The unity and determination of the membership is the most important factor in winning a satisfactory contract."
Equity and SSDC agree to work together on issues pertaining to both unions, with special emphasis on non-Equity road tours and theatres in NYC and on the road that do not sign SSDC contracts. SSDC issues a resolution stating it "would stand behind Actors' Equity that there should be no non-union tours."
Despite its good relationship with the organization, SSDC joins Equity in its fight against Big League Theatricals, stating it would not sign contracts with Big League on its AIDA or 42nd STREET tours, unless contracts were signed with Equity.
Equity and Big League are unable to reach an agreement and the tour of AIDA is cancelled.
Equity forbids members from working in any capacity - directors, choreographers, production supervisors - with Big League Theatricals, Troika or NETworks.
Barbara Hauptman, Executive Director of SSDC puts it plainly: "With the advent of large corporations in the theatrical arena and changes to touring productions among the many issues faced by SSDC and Actors' Equity, our joint efforts will strengthen our members' positions in the industry."
Members of Chicago's theatre community participate in a seminar sponsored by Chicago's Equal Employment Opportunity Committee (EEOC) Eisenberg is there. The title is: How I Learned to Thrive. Luther Goins, Equity Business Representative says, "When it comes down to securing regular acting jobs, talent only goes so far..."
The Screen Actors Guild Boardroom in Los Angeles is packed for Western Region festivities celebrating Equity's 90th anniversary. Equity President Patrick Quinn is on hand. Although celebrating the past, the gala cannot help but touch on the present and the future. SAG President Melissa Gilbert is unable to attend, but her message is read loud and clear: "As we embark on our 70th year at SAG, we recognize what an extraordinary partner Equity has been for decades, and more so each day. You are our advocate and ally and all actors are better off as a result of your tireless efforts to organize, negotiate and enforce contracts." AFTRA President John Connolly calls non-Equity tours "highway robbery...There's a direct line of march joining those brave young chorus kids parading up Broadway in 1913 and the line of march that Equity pursues today."
Who says the Classics are forgotten? The St. Clair Bayfield Award, given each year to an actor in a New York Metro area Shakespeare production, is handed out. This year's winner is Dakin Matthews, who wrote the adaptation and played two roles in Lincoln Center Theatre's production of HENRY IV.
Earl Hindman, Kathryn Meisle and Carol Schultz receive the Joe A. Callaway Award for Best Performances in a classic play written prior to 1920. Hindman, who died on December 29, receives the award posthumously.
The first-ever Chicago Free Health Fair for Entertainment Professionals is hosted by AEA and The Actors' Fund. Over 50 show up for free medical screenings, consultations and wellness info.
Uta Hagen, actor and teacher, dies today in Manhattan. She was 84. In her book, A Challenge for the Actor, she wrote, "I would like to disagree with George Bernard Shaw's statement that 'He who can, does. He who cannot, teaches' to express my personal belief that 'Only he who can should teach."'
WISH YOU WERE HERE: January 24 - After a rough landing, NASA's probe Opportunity lands on Mars. In March, the rover will confirm that its landing site was once covered with water.

In January and early February, Equity files Unfair Labor Practice (ULP) charges with the National Labor Relation Board against Clear Channel Entertainment, The Nederlander Organization, and Dodger Stage Holdings Theatricals, Inc. All three organizations failed to disclose to Equity their ties to non-Equity producers. As Eisenberg says, "This failure to provide information we requested begs the question - what are they hiding?"
Patrick Quinn and Alan Eisenberg, along with a cadre of actors such as Kate Burton, Ruby Dee, Ossie Davis, Tony Roberts and Kathleen Chalfant, meet with key legislators in Washington D.C. to discuss non-Equity tours and the upcoming contract. The event is kicked off by an original 20-minute musical called The Jobless Chronicles at AFL-CIO headquarters.
A new, streamlined Business Theatre and Events Contract is approved by Council. Actors are now contracted on a daily, rather than a weekly, basis.
Chicago-area producers respond to Equity's needs and increase health contributions in a new Chicago Area Theatre (CAT) contract, ratified today by the Central Regional Board.
John Randolph, Tony Winner, Council Member from 1967 to 1972, dies at the age of 88. He and his wife, actress Sarah Cunningham, were called before the House Un-American Activities Committee in 1955, but refused to testify. Randolph was blacklisted from film and television work until the mid-1960s.
March comes in like a lion as a new Members Only section is introduced to the Actors' Equity web site. Features include "my profile" updates, Area Liaison info, discounts, tax assistance, agency lists and registration for online elections.
Members of MASH (Milwaukee Area Musicians, Actors and Stagehands) distribute leaflets to theatre goers informing them that the production of MISS SAIGON they are about to see, labeled as part of a "Broadway Series" employs non-union actors and musicians.
Equity joins the Screen Actors Guild and the American Federation of Television and Radio Artists in hailing the new Child Performer Education & Trust Act, effective today in New York State. Inspired by California's "Coogan" Law, The Act mandates work permits, creates educational requirements and blocked trust accounts to protect juvenile performers in the entertainment industry.
The plaque in what was once Edwin Booth's personal library reads, "In this room, during the first three months of 1913, there met without permission, the small committee of four or five which ultimately led to the formation of Actors' Equity." Now, almost a century later, representatives of SAG, AFTRA, AGMA, the AFM, SSDC, IATSE, Australian Equity and the League of American Theatres and Producers all attend a gala party at Booth's house on Gramercy Park (now the Players) to celebrate Equity's 90th Anniversary. Patrick Quinn leads the toast to the Association, "the heart and soul of the American theatre. May we prosper and fight the good fight for decades to come."
Eastern Regional Director Carol Waaser, Central Regional Director Kathryn V. Lamkey, Western Regional Director John Holly and Consultant Jack Goldstein travel to Washington, D.C. to participate in lobbying during Arts Advocacy Day. They visit over 20 congressional offices and Senators from Illinois, New York and California.
John Kerry wins 9 out of 10 primary races on "Super Tuesday," clinching the Democratic Presidential Nomination.
The city of Madrid, Spain, is rocked with explosions on rush hour trains that kill 190 people. On March 14, the incumbent government is defeated. The next day, the new government of Spain announces it will withdraw Spain's 1,300 troops from Iraq.
Production Contract talks begin with an eye to June 27.
Happy Birthday Times Square ! 100 years ago today, New York City Mayor George McClellan renamed Longacre Square after the New York Times and Times Square was born.
The North Hollywood High School graduating class visits the Equity New York Office to participate in an outreach seminar conducted by National Education Outreach Coordinator Rob Roznowski.
The 18th Annual Easter Bonnet Competition is presented at the New Amsterdam Theatre in New York City, raising a record $3,439,075 for Broadway Cares/Equity Fights AIDS. Doris Eaton Travis, a former Ziegfeld girl from the Follies of 1921 who celebrated her 100th birthday in March, dances for the seventh year in a row on the New Amsterdam stage and receives a standing ovation.
Council resolves to establish a Special Hearing Committee to expedite charges brought against members accused of violating the Union's prohibition against working in non-Equity tours for NETworks, Troika and Big League Theatricals. "Equity was reluctant to take this action," says Alan Eisenberg, "However, a few have chosen to place their own interests above those of their fellow Actors and the Association. By selling the skills they honed as Equity members to non-Equity producers who want to turn back the clock, they are contributing to the demise of protections for the livelihood, health, safety and dignity of professional actors that Equity has worked so hard to secure."
Appeals court decision blocks Federal Communications Commission easing of rules on media consolidation. Equity joins ten other national labor organizations in hailing the decision.
Kitty Lunn receives Equity's annual Rosetta LeNoire Award. The award was created by Equity in 1988 to recognize theatres and individuals that have made significant contributions toward increasing diversity and non-traditional casting in theatre. Lunn, an actor and classically trained dancer, became a paraplegic in 1991. She went on to found the Infinity Dance Theatre, a company for dancers with disabilities and non-disabled dancers beyond the age traditionally associated with performers. Lunn is a former Council member.
The television show 60 Minutes II reveals photos of abused prisoners at the Abu Ghraib prison in Iraq, provoking world-wide outrage.
Negotiations continue, with dozens of sessions between Equity and the League of American Theatres and Producers. Sticking points are not unexpected: road companies, health insurance and safety issues. Equity has the support of the New York City Council, the Central Labor Council, the American Federation of Musicians, among many others.
President Patrick Quinn and Alan Eisenberg and a group of Equity members, including Ossie Davis, Ruby Dee, Brian Stokes Mitchell and Estelle Parsons, brief the leadership of the City Council of New York on the progress of the Production Contract Negotiations.
The Helen Hayes Awards are handed out tonight at the Kennedy Center in Washington, D.C. When the Helen Hayes Awards were first created 20 years ago by Bonnie Nelson Schwartz and Arthur Cantor, there were 14 professional theatres in the Washington, D.C. area. Now D.C. is home to more than 80 producing theatres, making Washington the second most prolific theatre town in the United States, thanks in large part to the award and its various programs. 2004's award-winners include Arena Stage's production of CROWNS (Outstanding Regional Musical) and THE DRAWER BOY at the Round House Theatre (Outstanding Regional Play).
Tony Randall dies. He made his Broadway debut in 1941 in THE CIRCLE OF CHALK, and gained world-wide fame from his performance as Felix Ungar on The Odd Couple television show, but would probably want to be remembered for his work to bring classical repertory back to Broadway with The National Actors' Theatre.
The Producers' Association of Chicago Area Theatres (PACT) hosts a celebration of Equity's 90th Anniversary on the main stage of the Chicago Shakespeare Theatre.

Equity Council unanimously votes to issue a Strike Authorization Ballot, allowing the Council to call a strike based on the negotiating team's recommendation, if and only if it becomes necessary. Mark Zimmerman says, "We continue to negotiate in earnest. But the authorization, whether we use it or not, sends a clear message that the voting membership is serious about doing what it takes to achieve a contract."
Complying with a ruling from the state's Supreme Judicial Court, Massachussetts legalizes same-sex marriage.
The National World War II Memorial on the Mall in Washington, D.C. is dedicated.
IT'S THE SAME FIGHT: Patrick Quinn takes time out from Contract negotiations to attend a rally supporting New York City's teachers, police officers and fire fighters in their own contract fight with the city and Mayor Bloomberg. Actor Alec Baldwin joins Quinn. President Quinn says that actors "rely on the skills of police and firefighters to protect us and for the teachers to teach our children the values we all hold so dear."
The 58th annual Antoinette Perry Awards are presented at Radio City Music Hall. Top Winners include: Hugh Jackman as Best Actor in THE BOY FROM OZ, AVENUE Q as Best Musical, I AM MY OWN WIFE as Best Play, and ASSASSINS and HENRY IV as Best Revivals.
Nathan Lane stars in THE FROGS, an expansion of Stephen Sondheim's 1974 musical, which starts previews at the Vivian Beaumont Theatre.
After a long struggle with Alzheimer's disease, President Ronald Reagan dies and is laid to rest at Simi Valley, California, in the first presidential state funeral since 1973.
SpaceShipOne is the first privately-owned spacecraft to achieve spaceflight.
Fifteen days after the Contract's expiration, and just two hours before a nationwide strike would have gone into effect, Equity and the League of American Theatres and Producers reach a tentative agreement for the Production Contract. A week later, the Negotiating Team unanimously recommends the contract to Council. Council votes to recommend a "yes" vote. Highlights of the agreement include increases in the annual wage, new steps in rehabilitating the Health Fund through higher contributions made by producers, and new protocols to increase safety.
In addressing the road crisis, the Agreement establishes an Experimental Touring Program: a new, tiered salary system which provides an innovative approach to meet the economic needs of the road. The appropriate tier is utilized based on a set of criteria that includes guarantees from presenters to producers, size of company and other variables. The agreement also includes a provision that provides additional compensation for Equity members for successful engagements before a show recoups, with still more compensation once a show is profitable. This program is a sweeping experiment to restore lost workweeks and generate new workweeks in smaller budget touring productions that have not employed Equity Actors in the past. It does so while maintaining the dignity of the Actors through increased per diems and profit participation.
Eisenberg later says, "This contract is a turning point in our history. We have addressed the key issues - health and the road and, despite the long, arduous negotiations, we have achieved a contract that is forward-thinking and progressive."
Celebration Day, honoring the Broadway Show League is a blast in Central Park. The Show League is 50 years old this year. On September 2, The Producers team will win the Championship.
The Eastern Regional Board approves increases in health rates in its first contract with the Association of Non-Profit Theatre Companies (ANTC). The Agreement goes into effect on August 2. Chief negotiator Rick Berg says: "We believe it will result in growth for these theatres and improvement in our working conditions."
Alan Eisenberg announces that, although it does include some elements of opera, AEA will have jurisdiction over the upcoming Broadway production of JERRY SPRINGER - THE OPERA.
The revival of AFTER THE FALL opens at The American Airlines Theatre, starring Peter Krause and Carla Gugino. Arthur Miller is in the audience and accepts a standing ovation. Miller will pass away in February, 2005.
QUITE AN AUDIENCE: On August 13, in front of four billion television viewers, Equity member George Costacos participates in the opening ceremonies at the Olympics in Athens, Greece.
The Republicans are coming! The 2004 Republican National Convention comes to New York City. 200,000 protestors demonstrate; Delegates see shows such as THE PHANTOM OF THE OPERA and WONDERFUL TOWN on Broadway, but somehow miss AVENUE Q and NAKED BOYS SINGING.
The Alabama Shakespeare Festival begins a program funded by the NEA and the Department of Defense to bring Shakespeare to military bases throughout the country. The first production, MACBETH, is scheduled to tour 13 military installations. Performing in mess halls, airplane hangars, and Quonset huts actor Paul Hebron calls it "commando acting." Kathleen McCall, playing Lady Macbeth, writes, "I must say that this play truly rings to the military personnel that we have performed for so far... I find it incredibly haunting to say lines like 'fie, fie my lord, a soldier and afeared!' when so many of them have seen death and horror up close."
Broadway lyricist Fred Ebb dies. With his partner, John Kander, Ebb wrote such classic musicals as CHICAGO, CABARET, and the song "New York, New York."
Iggie Wolfington, Council Member between 1959-2000 and Fourth Vice President from 1973 to 1976, dies at the age of 84. In addition to his many theatre and movie credits, Wolfington founded the Hollywood office of the Actors' Fund and served as its Western Rep for 15 years. He was voted a special award by the Los Angeles Drama Critics Circle for his work, and received the Screen Actors Guild's Annual Achievement Award in 1984. That same year, he won Equity's first Philip Loeb Award in recognition of his work for the Union.
Raoul Esparza, Lillias White, Euan Morton, Harvey Fierstein, Liz Callaway, and Lea DeLaria are among the stars in a concert performance of HAIR at the New Amsterdam Theatre, benefiting the Actors Fund.
"The struggle of the newcomer has always interested me," wrote Clarence Derwent, and this year the 59th annual Clarence Derwent Award goes to two up-and-coming young actors, both Tony nominees this season: John Tartaglia (AVENUE Q) and Anika Noni Rose (CAROLINE, OR CHANGE).
On the other side of the experience scale, Tom Aldredge and Margo Martindale are the first winners of Equity's new honor: the Richard Seff Award, presented to character actors on Broadway or Off Broadway who have been members for over 25 years.
After a massive grassroots lobbying effort by NY State entertainment unions, Governor Pataki signs the NY Insurance Continuation Assistance Demonstration Project. Commonly referred to as The COBRA Subsidy Bill, the $4.75 million legislation offers qualifying entertainment industry workers a 50% subsidy of their COBRA premiums for up to one year. The new law goes into effect in January 2005.

Back L-R: Equity Treasurer Conard Fowkes, Equity Executive Director Alan Eisenberg, Eastern Regional VP Arne Gundersen, AFTRA Nat'l President John P. Connolly (Front L-R): SAG President Melissa Gilbert, SAG Executive John McGuire
100 delegates from 30 countries attend the 18th Annual Federation of Actors Congress in Budapest. Secretary Treasurer Conard Fowkes, Eastern Regional Vice President Arne Gundersen and Executive Director Alan Eisenberg represent Equity. The FIA Congress is held every four years. Performers' Intellectual Property rights, the role of technology, health and safety are among the topics discussed. Eisenberg, along with Vincent McCabe, the President of Irish Equity, lead the panel on Trade Union Organizing and Communication.
Guy Pace steps down from his position as an Assistant Executive Director of National Finance and Administration. After 26 years, Pace will consult as a Senior Advisor so that he can pursue personal goals. Highlights of Pace's time at Equity include coordinating sales in 1980 and 1981 for the purchase and resale of the Equity Building in New York; fighting for passage of the Tax Reform Act in 1986, and redrafting Equity's Constitution to allow for National Representation in 1992. Steve DiPaola is named National Director for Administration.
BROOKLYN: THE MUSICAL, a new musical that had its premiere at the New Denver Civic Theatre in May 2003, begins previews at Broadway's Plymouth Theatre.
Judith Jamison, Artistic Director of the Alvin Ailey American Dance Theater, receives this year's Paul Robeson Award, which was established in 1974 to recognize a person who best exemplified the principles by which Mr. Robeson lived.
Christopher Reeve dies at the age of 52. Although best known for his role as Superman and then his activism on behalf of the disabled after his accident in 1995, Reeve had also been strongly involved with the fight to Save the Theatres that were torn down to make way for the Marriott Marquis Hotel. Elected to Equity Council in 1983, he represented the Union in 1988 at a solidarity concert in Chile staged to protest death threats and persecution against the country's artistic community.
A new species of fossil hominid, Homo floresiensis, from the island of Flores in Indonesia, has been discovered. The findings are published today. The skeletons, no larger than modern children, are compared to hobbits.
THE CURSE IS BROKEN - October 27: For the first time since Broadway producer Harry Frazee sold Babe Ruth's contract to the Boston Red Sox in 1920, the Sox win the World Series, sweeping the St. Louis Cardinals.
THE PHANTOM OF THE OPERA on Broadway plays its 7,000th performance, becoming only the second musical in history to reach that record. Five Equity members - four actors and one stage manager - have been with the show since opening night in 1988, including Councillor Mary Leigh Stahl and former 2nd VP Richard Warren Pugh. As George Lee Andrews, playing Monsieur André says, "A long run in a great show is a wonderful gift..."
The new four-year agreement with the Council of Stock Theatres (COST) is approved by Council.
In honor of their keeping the Gypsy Robe tradition alive, Equity's Terry Marone and the Committee on Chorus Affairs (ACCA) receive Tokens of Esteem and are inducted into the People's Hall of Fame by City Lore, New York City's Center for Urban Folk Culture. Marone has long been known as the "guardian angel" of the Gypsy Robe.
George W. Bush defeats Senator John Kerry and retains the Presidency. On November 14, Secretary of State Colin Powell will submit his resignation and be replaced by Condoleeza Rice.
A revival of PACIFIC OVERTURES for the Roundabout Theatre in New York, directed by Amon Miyamoto, stars B.D. Wong and Councillors Francis Jue and Scott Watanabe.




Comedian Billy Crystal opens his one-man show, 700 Sundays, on Broadway. The play tells the story of Crystal's life and his relationship with his father.
An earthquake measuring 9.3 on the Richter scale creates tsunami tidal waves that slam into the coastlines of Bangladesh, India, Sri Lanka, the Maldives, Thailand, Malaysia and Indonesia. Close to 290,000 people are killed.
Taipei 101, currently the tallest building in the world, opens in Taiwan at a dizzying 508 meters, or 1,676 feet from ground to the structural top. The Sears Tower in Chicago retains its title as highest from ground to pinnacle at 529 meter.
---