"The Theatre, when it's good, is always dangerous"
- Federal Theatre Project Director Hallie Flanagan
Library of Congress
The U.S. Supreme Court refuses to hear William Edelstein's appeal; Equity's agency rules stand.
Strike Up The Band by the Gershwins opens at the Times Square Theatre. In October, their show Girl Crazy will open at the Alvin (later the Neil Simon) with a 21 year old actress named Ethel Merman, who wows audiences with the song "I've Got Rhythm."
Censorship Watch: A delegation from Equity successfully appeals part of the Wales Act: actors and actresses are no longer in danger of being arrested when a play is raided. Speaking to the Catholic Lawyers' Guild, Patrick Cardinal Hayes says, "We have a stage that is reeking with filth, and there seems to be no power in the City of New York to stop it..." Equity proposes to set up a Theatre Board to vet new plays and musicals.
Equity Magazine headline: "Deserters Need Expect No Leniency" Movie actors who refused to use Equity contracts during the strike action of 1929 are suspended from the union, then given amnesty, allowed to return to the fold if they put themselves in good standing. In June, the amnesty ends. "They have been stricken from the rolls," says Equity Magazine, "Equity has no need for them."
The most prolific playwright of the 1929-1930 season: William Shakespeare. Broadway is teeming with ten productions from the Bard.
More than 1,300 banks are forced to close nationwide.
The Guild Theatre opens Green Grow the Lilacs by Lynn Rigg. Twelve years later it will be adapted into Oklahoma!
New York Governor Franklin D. Roosevelt signs the Buckley-Post Bill, exempting actors, musicians, stagehands and audience members from arrest during raids on theatres permitted by the Wales Act.
The American Arbitration Association gives its Commercial Peace Medal to Equity President Frank Gillmore. Equity was the first trade union to make arbitration a routine part of its settlements.
Dark times: As the year begins, half the theatres on Broadway are empty. Throughout the year, Equity receives complaints from many casts about lack of payment.
Nationwide unemployment is between 4 and 5 million people.
The police descend on the Carthay Circle Theatre in Los Angeles and arrest the cast of Aristophanes' Lysistrata. After two cast arrests, Equity orders its members to withdraw from the production. Equity Magazine sadly jokes, "If the citizens of Los Angeles and its vicinity are ruined it will not be because of this twenty-three hundred year-old comedy."
Paid for by the late Henry Clay Folger, a Shakespeare Memorial Library is erected adjoining the Library of Congress in Washington, D.C.
Florenz Ziegfeld dies nearly $1 million in debt.
Eugene O'Neill's Ah, Wilderness! opens at the Guild Theatre. George M. Cohan plays the father.
Americana opens at the Shubert which includes the Yip Harburg-Jay Gorney song which becomes the anthem of this era: "Brother Can You Spare a Dime?"
Franklin Delano Roosevelt is elected President.
FDR is inaugurated and challenges the country with the famous words, "The only thing we have to fear is fear itself." He begins his "New Deal" program of economic growth, by declaring a 4-day "bank holiday": no banking transactions, embargo on exporting gold, silver and currency. In emergency meetings, Equity informs producers that if theatres were forced to close during the moratorium, producers would not be held responsible for salaries.
Movie producers announce a slash in salaries in response to the moratorium. In Los Angeles, Equity members gather to discuss forming what will become the Screen Actors Guild. Among the group of half-a-dozen actors are Equity Council Member Ralph Morgan and Equity's West Coast Representative, Charles Miller.
The Screen Actors Guild is created. In July, Ralph Morgan will be elected its first president.
As part of Roosevelt's National Industrial Recovery Administration, producers and performers negotiate a minimum wage for actors: $40 to $50 weekly depending on ticket prices. Actors with fewer than two years' experience will get $25, chorus members will get $30. By the way, the Federal Minimum Wage was not set until 1938.
Equity Council protests the Nazi government barring Jewish performers from Germany's stages: "On principle, the actors of all civilized countries must voice their objection to a point of view which sets political opinion and race above talent."
The 21st Amendment is passed, repealing Prohibition.
Glad we got that cleared up: Headline in March 1933 Equity Magazine: "Clothes are so Important in the Theatre."
Equity creates procedures for lowering salaries when the box office is weak.
Equity surrenders jurisdiction over movies to SAG. Equity, Chorus Equity, and SAG agree that SAG will apply to the 4As for a charter granting it full jurisdiction over motion picture actors. This charter will be granted in 1935.
The Children's Hour by Lillian Hellman opens at Maxine Elliot's Theatre. The New York Times calls it "venomously tragic."
"Not suitable to the ears of bashful theatre-lovers," says critic Percy Hammond, of Anything Goes by Cole Porter, starring Ethel Merman.
Minimum rehearsal salary - $15 per week - is paid for the first time.
Opinion on the Actor's Forum, an independent group within Equity, is divided: some believe they sympathize with communists, others think they simply want a closer relationship with organized labor. Equity Administration is forced to call a special meeting for a vote of confidence. Nearly 2,000 members attend the largest meeting in years. The status quo prevails: the Administration is retained over the Forum two and a half to one. Nevertheless, tensions are high. A fistfight breaks out at an Equity meeting in December concerning wages for actors on the proposed Federal Theatre Project.
The Group Theatre transfers Clifford Odets' Waiting for Lefty from a downtown theatre to the Longacre. The cast includes Elia Kazan, Lee J. Cobb and Odets himself.
Council accepts a statement from producer Billy Rose that his new production, Jumbo, is out of Equity's jurisdiction because it is a circus, not a show. George Abbott directs his first musical, um, circus.
Equity's membership votes to perform on Sundays only if they receive a quarter of their weekly salary for the day.
The Federal Theatre, a branch of the Works Progress Administration (WPA) is formed. Although from 1936 to 1939 over 12 million people will attend New York productions of the Federal Theatre alone, many in government have reservations. As Brooks Atkinson later wrote, "Suspicion of the theater is an essential ingredient of congressmen."
Porgy and Bess by the Gershwins opens at the Alvin.
Eugene O'Neill wins the Nobel Prize for Literature.
San Diego's Globe Theatre is built. It will go on to become California's oldest professional theatre.
Congress passes the National Labor Relations Act, commonly known as the Wagner Act, after Senator Robert F. Wagner of New York. The Act is meant to guarantee workers the right to unionize and bargain collectively. To maintain these rights, the National Labor Relations Board is formed.
In Germany, the Nazi Party issues the Nuremberg Laws, excluding Jews from German citizenship.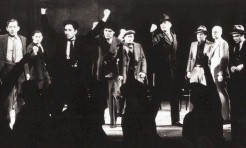 Waiting For Lefty, 1935
Museum of the City of New York
Equity Council adopts a new form of contract to cover the engagement of members in summer stock theatres. Salaries, room and board arrangements, regulation of the summer stock season, and classification of summer stock theatres are all covered.
Innovative, up-to-the-moment and infuriating, The Federal Theatre Project's Living Newspaper is born tonight as Triple A Plowed Under starts performances at the Biltmore Hotel. Charges of communism and subversion follow soon after.
Roosevelt wins in a landslide, winning every state but Vermont and Maine. Hitler and Mussolini sign an accord. This year, Hitler will watch African- American runner Jesse Owens as he wins four gold medals at the Berlin Olympics.
"Perhaps there is a Santa Claus," says Equity Magazine. This Broadway season is turning out to be the best in years.
A delegation from Equity goes to Washington to argue against limiting appropriations to the WPA. Federal plays have drawn a weekly nationwide audience of over 500,000.
The Charter of the newly formed American Federation of Radio Artists is accepted by the 4As after Equity releases its jurisdiction over radio. Eddie Cantor is the first president.
Helen Hayes opens The Convention of the American Theatre Council with these remarks: "Until now the theatre has been like a not very happy or homogenous family. All the hounds of theory, prejudice and personal advantage were unleashed and howling. That is why I cannot state strongly enough my approval of the newly formed American Theatre Council, which has gathered all these elements together to do what they can for the theatre, not someday, not next year, but now."
The Cradle Will Rock, a musical drama by Marc Blitzstein, cannot open tonight because of a sudden cut in Congressional funding. Thinking on his feet, director Orson Welles arranges for cast, crew and audience to travel 20 blocks to the Venice Theatre, where the musical is performed from the house because Equity forbids its members from playing on the stage.
In August, Equity writes to FDR, "we urge your intervention on behalf of the Federal Theatre project and its harassed people."
Equity, Chorus Equity, American Guild of Musical Artists, Screen Actors Guild and American Federation of Radio Artists sign interchangeability agreements.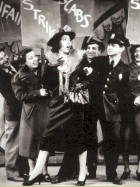 Pins and Needles, 1937
UNITE
Pins and Needles, a musical by the International Ladies' Garment Workers Union, comes to Broadway, with such songs as "It's Better With A Union Man."
"Welcome back!" Thought to be 60 million years extinct, a living coelacanth, a prehistoric fish, is caught off the coast of Africa.
Equity, along with SAG and AFRA, create The Little Theatre Contract, regulating the amateur theatres that sometimes use professional actors to enhance their seasons.
"This is the way we were: in our growing up and in our marrying and in our living and in our dying." Our Town by Thornton Wilder opens on Broadway.
The House Un-American Activities Committee is formed and begins investigating charges of communism within the Federal Theatre Project.
The movies become more and more of a problem, not only in their popularity and cheap prices, but their talent drain. Variety headline: "Talkers Hot After Legit Talent."
Orson Welles and his Mercury Company perform their famous "War of the Worlds" broadcast. The country is thrown into panic.
In response to the "Kristallnacht" pogroms of November 9th and 10th in Germany, Equity Executive Secretary Paul Dullzell writes: "I desire to register my emphatic protest of the horrors perpetrated by the Nazi regime in Germany extending over the past five years and culminating in the unrestrained savagery and brutality of the last two weeks."
The end is near for the Federal Theatre Project. Project director Hallie Flanagan writes to Equity, "I want you to know how deeply I appreciate the support Equity is giving to the Federal Theatre at this time when the cuts ordered are a heart-breaking business for us all." 1,526 pink slips are handed out to New York theatre workers. Equity strongly protests, but to no avail.
Equity opens new offices in Los Angeles at 6331 Hollywood Blvd.
In July, after years of struggle, the Federal Theatre Project is abolished by Congress, much to the anger of President Roosevelt and Equity.
It's a hot summer as the International Alliance of Theatrical Stage Employes attempts to organize performers over the heads of the theatrical unions by granting a charter to the American Federation of Actors after the 4As revoked the AFA's charter due to mismanagement. The 4As demand IATSE revoke the AFA charter. Strikes are threatened. Finally, on September 3, Equity, the 4As and IATSE agree: the AFA will be disbanded, and its members merged into the American Guild of Variety Artists.
The Time of Your Life by William Saroyan opens at the Booth. It becomes the first play to win the Pulitzer and the Drama Critics Awards.
Life With Father by Howard Lindsey and Russel Crouse opens. The play will run for 3,224 performances, setting a new record for non-musical shows.
Butterfly McQueen becomes the first African-American lifetime member of Equity.
Roosevelt declares U.S. neutrality in European conflicts. Germany invades Poland. Britain and France declare war on Germany. World War II has begun.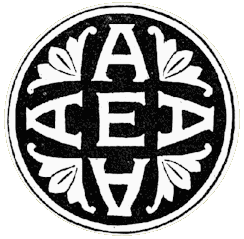 Equity Star