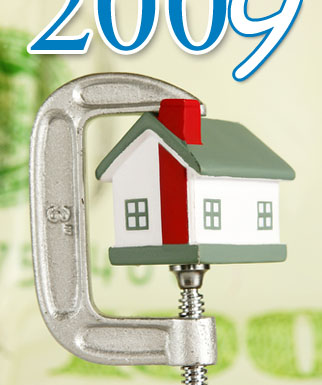 A special Council meeting is called to address the global financial crisis and its impact on the theatre. John P. Connolly calls the situation a "body blow" to American workers: "We are a shovel ready industry," he says, echoing President Obama's term for those jobs ready to start right away, "Live entertainment is ready to go." The situation, as presented by James Parrott, Executive Director and Chief Economist from the Fiscal Policy Institute, is stark:
For the first time since World War II, homeowner debt is higher than equity
The projection for default in 2009 is between 2 and 3 million homeowners.
$3 trillion in retirement savings have been wiped out over the past 15 months.
Jed Bernstein, the former head of the Broadway League and now with the Commercial Theatre Institute, says "There are many obstacles to investing on Broadway even when the sky isn't falling." He's especially concerned about the lack of front money for developing new projects. Teresa Eyring of Theatre Communications Group says, "Nearly two million people say their primary profession is an artist, just under the number of active duty military." She echoes Connolly's call for the arts to be included as part of the President's proposed economic stimulus package.
Barack Obama is sworn in as the 44th President of the United States; he is the first African American to hold that position. Despite the frigid weather, there is a record attendance at Obama's inauguration. The oath is administered by Chief Justice John Roberts.
The night before the Inauguration, Equity, along with other entertainment unions, is the co-host of an invitation-only party in Washington, D.C., a gathering of elected officials and arts policy leaders. President Mark Zimmerman says, "for the first time in a very long time, we'll have a government that understands the value and contributions to our society made by working people and our labor movement, that will not treat us with scorn; a government which understands the value not only of the arts, but also of professional artists and our work."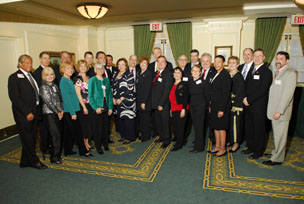 Actors' Equity co-hosts a pre-inaugural party in Washington DC with representatives from AFTRA, AFM, IATSE, DPE and SAG.
"Age is an issue of mind over matter. If you don't mind, it doesn't matter." - Mark Twain Philadelphia's legendary Walnut Street Playhouse, the oldest theatre in America, celebrates its 200th birthday!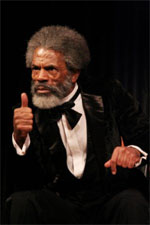 Andre De Shields
Equity's Equal Employment Opportunity Committee presents "Mine Eyes Have Seen The Glory: From Douglass to Deliverance," a solo performance exploring the life of Frederick Douglass starring Andre De Shields.
Equity President Mark Zimmerman and Executive Director John P. Connolly write to President Obama urging him to take health care reform as his next goal. Although they say that Equity believes a single payer health insurance system is the way to go, they realize that the politics of the time may make that impossible. Still, they say, "it is essential to provide a viable public-sector alternative to private insurance, just as you envisioned in your campaign proposal."

Equity Members march for Health Care Reform
President Obama signs the American Recovery and Reinvestment Act. The bill is meant to add $789 billion into the U.S. economy. $50 million goes to the National Endowment for the Arts to help prop up the nation's arts and cultural workforce. The Act removes a Senate ban on state and local governments using the recovery funds to benefit arts organizations.
John P. Connolly writes in Equity News, "Our theatres produce precisely the kind of middle class jobs that President Obama correctly says we need to save and grow if the United States is to climb out of the greed-induced economic morass that plagues this country and the world."
Council unanimously adopts language against Proposition 8, the California state constitutional amendment passed in November of 2008 which stated that only marriage between a man and a woman is recognized in California. "Actors' Equity Association has a long history of commitment to human rights for all people. In this tradition, Equity reaffirms its support for equal rights for gay Americans, and declares its support for marriage equality and for the repeal of Proposition 8, currently before the California Supreme Court."
Despite the world's financial stress, Equity and the League of Resident Theatres (LORT) reach a tentative agreement on a three year contract.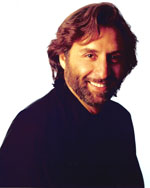 Ron Silver
Former Equity President Ron Silver dies at the age of 62.
Equity begins a campaign for the issuance of a commemorative stamp in honor of the upcoming 100th anniversary. Strangely enough, the campaign is carried out through email.
The Palace Theatre is home to the new revival of West Side Story, featuring a new bi-lingual libretto, incorporating the Sharks' native Spanish language into the show.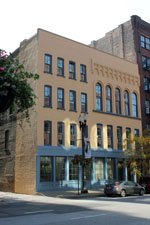 Equity's new Chicago headquarters
Stephen DiPaola, Equity Assistant Executive Director for Finance and Administration, announces that Equity has purchased 557 West Randolph Street, a four story building close to Chicago's theatre district for its new Chicago headquarters. The 1855 building is just one of two buildings in the River West area to have survived the Great Chicago Fire of 1871.
One of the surprise hits of the year is Next To Normal, a new musical by Tom Kitt and Brian Yorkey about a mother who suffers from bi-polar disorder. The show opens tonight at the Booth Theatre and stars Alice Ripley. It will go on to win the Pulitzer Prize for drama, only the eighth musical in history to receive that honor.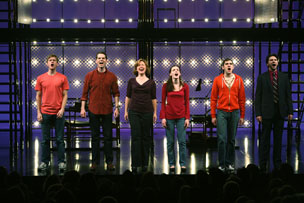 Cast of Next To Normal
Photo: Walter McBride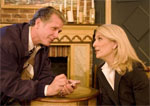 Catherine Russell in Perfect Crime
Photo: Fran Collin
Whew! Equity member Catherine Russell is inducted into the Guinness Book of World Records for not missing a day of work since 1987, performing in the Off-Broadway thriller Perfect Crime 8,963 times.
The Directors and Choreographers Union, now called the Stage Directors and Choreographers Society or SDC, celebrates its 50th anniversary.
Neil Patrick Harris takes the reins as Tony® Awards host this year. Winners include God of Carnage (Best Play), Billy Elliot (Best Musical), Hair (Best Musical Revival) and The Norman Conquests (Best Revival of a Play). The Regional Theatre Award winner this year? Signature Theatre in Arlington, Virginia!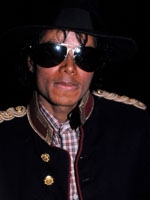 Michael Jackson
Photo: Walter McBride
The death of entertainer Michael Jackson shocks the world.








Long-time Broadway theatre producer Rocco Landesman is sworn in as the new Chairman of the National Endowment for the Arts.
It's a long hot summer as nationwide debate over health care reform reaches a boiling point. Equity sends out as email blast to more than 30,000 members urging them to contact their elected officials to support House Tri-Committee Bill HR 3200 because it contains the strongest version of the Public Option in health care.
John P. Connolly announces that he will not seek a second term as Equity's Executive Director. Carol Waaser is named Acting Director.
Senator Edward "Ted" Kennedy of Massachusetts dies of brain cancer at the age of 77.
Mark Zimmerman resigns as Equity President, saying "I didn't go into this business to be a President of a Union. I did it to be an Actor. I miss that, and I want to devote my time to doing what I love." First Vice President Paige Price is carrying out the duties of the office until a new President is elected.
Conrad Fowkes
Equity mourns the passing of Conrad Fowkes, AEA's longtime Secretary/Treasurer and the co-founder of the Volunteer Income Tax Assistance program (VITA)




A Nigerian man, who later told officials that he was working on orders from Al Qaeda, attempts to ignite an explosive device hidden in his underwear during a flight from Amsterdam to Detroit.



---