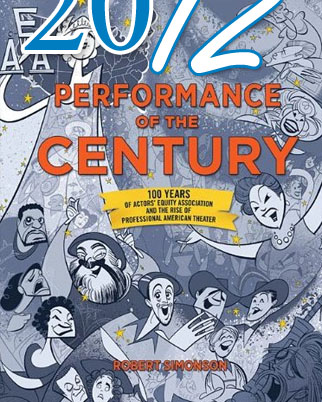 Farmer Alley Theatre becomes West Michigan's first year-round professional Equity Theatre.
The Pope Auditorium at Fordham University in New York City is packed to the rafters as theatre professionals discuss inequity in employment opportunities for minority actors. The roundtable, "RepresentAsian: The Changing Face of New York Theatre" is organized by the Asian American Performers Action Coalition (AAPAC) and coincides with the release of the group's report, "Ethnic Representation on New York City Stages 2006/2007-2010/2011." During that five year period, the report found that African American performers filled 13% of all available roles, 4% Latinos/Hispanic American actors and 2% Asian American actors. Roundtable participants blame a "crisis of imagination" in the theatre. Public Theatre Artistic Director Oskar Eustis says, "We cannot view race as so primary that it overrides all other ways we suspend our disbelief when we go to the theatre."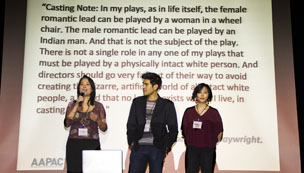 AAPAC founders Christine Toy Johnson, Pun Bundhu, Angel Desai
Photo: Bruce Johnson
It's finally happened! Members of the Screen Actors Guild and the American Federation of Television and Radio Artists have voted overwhelmingly to merge. The new union will be called SAG-AFTRA. National Co-President Ken Howard says, "we have chosen a path of unity and strength. Members have said loud and clear that this is not a fractured group; this is a united group, united in commitment to improve our wages, residuals and benefits our members depend on."
Capping off a two-year IT project, Equity launches its new Member Portal. The web based, state-of-the-art system significantly streamlines and improves internal operations. Members can now manage their own Profile, update addresses and contact preferences, choose online dues billing, paperless balloting in AEA's elections and email subscriptions.
Perfect Crime celebrates its 25th year Off-Broadway, making it the longest-running play in the history of New York theatre. Its star, Catherine Russell, has been at the same role since its first performance and never taken a sick or vacation day. During her run on Perfect Crime, Ms. Russell has shot 89 different men and kissed 57 others.
Pan Asian Repertory Theatre celebrates its 35th anniversary this year!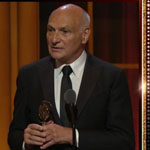 Michael Kahn accepts Regional Tony® Award
Photo courtesy Shakespeare Theatre Co
Actors' Equity Association receives a Special Tony® Award recognizing its upcoming Centennial Celebration. Regional honors go to Washington D.C.'s Shakespeare Theatre Company.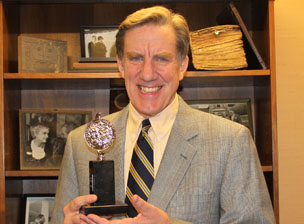 AEA President Nick Wyman
Photo: Stephanie Masucci
Heeding the call from members for broader communication about issues that affect them, Equity hosts a day-long seminar in New York titled, "The Business Behind the Show." Over forty Broadway and Off-Broadway cast members attend. Created and presented by the Commercial Theatre Institute, the seminar brings together such producing luminaries as Tom Viertel, David Richards, Rich Baker and Maggie Brohn. Each presenter focuses on a different aspect of producing a show, from "What does a producer do?" to "How are shows capitalized?" More events which provide richer communication of important issues to Equity members are being planned.
Happy 50th Birthday this season to the Shakespeare Theatre of New Jersey, the state's largest professional theatre devoted to the works of the Bard and other classics. What started as a summer-only Festival in Cape May has now grown to a year-long institution with a permanent home at Drew University.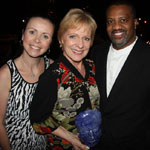 Denver Area Liaison Shelly Gaza, WRD Mary Lou Westerfield and Chaz Grundy at the Henry Awards
At the 7th annual Henry Awards in Denver, the Colorado Theatre Guild presents AEA with a special "Henry" in celebration of its 100th Anniversary. Randy Weeks, President of The Denver Center for the Performing Arts, gives the Henry to AEA 1st VP Paige Price and Western Region Director Mary Lou Westerfield.
After three seasons, the Tulsa Project Theatre (TPT) takes on a Tier 1 Small Professional Theatre contract. Since 2011, TPT has been the resident theatre company for Assembly Hall in the Tulsa Convention Center, which has allowed them to produce "a full season to show we could meet Equity standards and do it in a facility that met its expectations," says Todd Cunningham, TPTs Executive Director/Producer.
Thomas Carpenter is hired as AEA's Eastern Regional Director/Assistant Executive Director and General Counsel. "I have tremendous respect for Equity's proud history and traditions," says Carpenter, "Growing up, my parents took my sister and me to the theatre and I remember to this day the excitement I felt when the house lights dimmed and the show was about to start." Carpenter's duties will include overseeing the Eastern region's operations, collective bargaining and contracts.
Curiosity, the Mars Science Laboratory mission's rover, successfully lands on Mars.
#Labor Day: In a Labor Day event which could never have been anticipated by Equity's Founders nearly a century ago, AEA members participate today in the American Rights at Work Tweet-A-Thon! Over the four day event, more than 11,000 tweets by Equity and other union members are sent into the ether, reaching over 11 million people on Twitter. Equity tweets include: "Grateful to give a Labor Day matinee of Cabaret! Proud new union member!" and "Feeling very proud to be a #unionmember of @ActorsEquity. Thanks for the health insurance, overtime, days off and sprung dance floors!"
AEA President Nick Wyman is among the honorees at the first annual Spotlight on Broadway Award. Sponsored through an alliance between the Mayor's Office of Media and Entertainment and the Broadway League, The Spotlight Awards will recognize those individuals who have made a significant impact to the Broadway community over a ten year period. Other honorees include Chita Rivera, Tommy Tune, composer Charles Strouse, manager Nina Lannan, IATSE International President Matthew Loeb, and theatre owner James M. Nederlander. The Awards are a kickoff to the annual Broadway on Broadway celebration.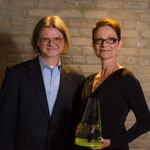 AEA E.D. Mary McColl accepts the Ivey Award from Park Square Artistic Director Richard Cook
Actors' Equity is honored with a special "Ivey" Award in the Twin Cities. E.D Mary McColl accepts the award saying: "The work this Union does positively affects all of us. I am proud to be a part of it. And, for me, I am thrilled to be able to accept this award here in Minneapolis - my cultural home. This is where I learned something that has guided me throughout my career - theater works if everyone shows up - the playwright who takes a fleeting idea and turns it into a play or musical, the designers who create a world for us to enter and experience, the actors and musicians who make the words and music of the composers and lyricists soar; the stagehands and wardrobe crew who make the backstage magic happen; the box office personnel, and the ushers who are the first people to meet and make welcome the audience. And of course, the audiences who come to our theaters to be a part of the world we create. Theatre is collaborative effort, and tonight, on behalf of Equity, I would like to congratulate all of the Ivey honorees for their passion, creativity and extra ordinary work."
The International Federation of Actors (FIA) holds its 20th World Congress in Toronto, Canada; representatives from over 50 member countries attend. FIA represents some 100 performers' unions in 75 countries and the World Congress meets every four years to create policies that work to improve economic, artistic, social and legal interests of professional performers. The focus of this year's Congress is Diversity and Inclusion. As Allan Teichman, President of Canadian Actors' Equity said, "Congress is a chance for artists associations from around the world to share information, help each other develop best practices and support each other as we fight for the rights of performers - from the basics of pay and working conditions to more global issues like freedom of speech and human rights." AEA is represented at the Congress by President Nick Wyman, First Vice-President Paige Price, Third Vice-President Ira Mont, Executive Director Mary McColl and National Director of Organizing and Special Projects Flora Stamatiades.
AEA members who work at Walt Disney World vote to ratify a new five-year agreement; the contract achieves a package that provides increased compensation for each year of the agreement and maintains or strengthens work rule language.
William Greaves
The winner of this year's Paul Robeson Award is writer, actor and director/producer William Greaves.



The 44th Annual Jeff Equity Awards honoring excellence in professional Equity theatre produced within the immediate Chicago area are held at the Drury Lane Oakbrook. A Special Jeff Award is presented to AEA "in celebration of their century of service to Actors and Stage Managers in Chicago and across America."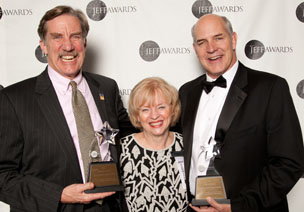 President Nick Wyman, Jeff Awards President Diane Hires, Central Regional VP Dev Kennedy
Photo: Johnny Knight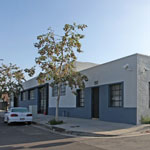 Equity's new LA headquarters at 5636 Tujunga Ave
After moving at least five times in the last 30 years, it looks like the Equity's Los Angeles office finally has a permanent home: AEA has acquired a new Western Region headquarters at 5636 Tujunga Avenue in North Hollywood. Council gives approval today for the purchase of the building. "The building allows Equity opportunity for growth and income. It also provides long term cost savings for the Association," said Steven DiPaola, Assistant Executive Director for Finance and Administration. Western Regional Director Mary Lou Westerfield adds, "The membership and staff in Los Angeles have long hoped for a permanent home. The fact that our new home will also provide an Audition Center for the members is a dream come true." The new building will be renovated throughout 2013 and be ready for use in early 2014.
NYC's Women's Project is 35 years old this year. The company has produced more than 600 mainstage plays with the mandate to address the under-representation of women in the American theatre. Founding member Kathleen Chalfant said, "the Women's Project is still doing essential work and has been a stop on the way in the careers of almost every woman working regularly in the New York theatre and writing and directing in the American theatre. It has proved to be an invaluable networking resource providing an old girls' network to give a hand to those coming on after."
SANDY AND ITS AFTERMATH: Between when it was formed on October 22nd and when it dissipated on October 31st, Superstorm Sandy was the deadliest hurricane to hit the northeastern U.S. in 40 years and the second-costliest in the nation's history, according to a report from the National Hurricane Center. The Center attributes 72 deaths directly to the storm, with $50 billion in damages, more than any other U.S. storm other than Katrina. 48 individual performances are cancelled on Broadway. Equity members mobilize to help with relief. Drive 111, a four-day grass roots campaign to collect 111 items of warmth for storm victims is a great success, and within two weeks of the storm, the Actors Fund responds to over 450 requests for help. Broadway Cares/Equity Fights AIDS awards emergency grants of $350,000 in the name of the theatre community. Many theatres in New Jersey and Long Island are severely damaged or affected by the storm. Two Rivers Theatre in Red Bank, NJ, was forced to cancel 13 performances of Henry V and Ethan Lipton's No Place to Go. When the theatre regained power, it became a kind of community center for charging laptops and phones and the company made several performances "pay-what-you-can." As Associate Artistic Director Stephanie Coen said, "We took to heart one of the famous lines from Henry V - 'we band of brothers'"
The Suzi Bass Awards, which celebrate excellence in Metro Atlanta's professional theatre community, are held at Sanford Performing Arts Center in DeKalb County. Equity receives a special "Spirit of Suzi" Award recognizing Equity's Centennial, which was presented to AEA President Nick Wyman by Georgia Shakespeare Producing Artistic Director Richard Garner.
President Barack Obama is re-elected to a second term, beating Republican challenger, former Massachusetts Governor Mitt Romney.
The sixth annual Equity Advisory Committee on Chorus Affairs Award goes to Newsies this year. The Disney show about the Newsboy Strike of 1899 cuts close to the heart for Equity, about to celebrate the anniversary of the 1913 Strike that started it all!

Cast of Newsies
Photo: Stephanie Masucci
NYC's Drama Book Shop holds a signing and panel discussion of Performance of the Century - 100 Years of Actors 'Equity Association and the Rise of Professional American Theater. On hand is the author Robert Simonson, book cover illustrator Justin "Squigs" Robertson, President Nick Wyman and Equity members Lee Roy Reams and Danny Burstein.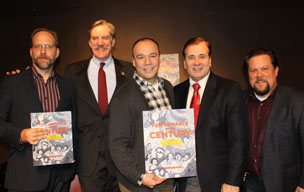 L-R: Robert Simonson, Nick Wyman, Danny Burstein, Lee Roy Reams, Justin "Squigs" Robertson
Despite massive publicity and concern, existence does not come to an end when the Mayan Calendar reaches the conclusion of its cycle today. Instead, the world eagerly awaits the 100th anniversary year of Actors' Equity in 2013!



---