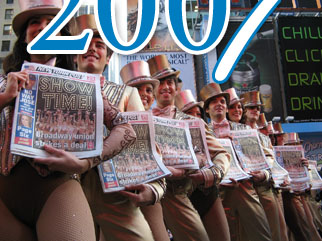 Cast members from A Chorus Line in Times Square
Photo: Stephanie Masucci
California Democrat Nancy Pelosi becomes the first woman Speaker of the House of Representatives.
Council approves the formation of a New Technology Advising Committee, charged with monitoring emerging tech and exploring its possible impacts on the union.
New York City's Pan Asian Repertory Theatre celebrates it 30th anniversary.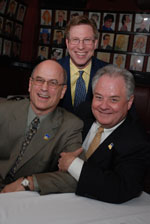 AEA President Mark Zimmerman, 3rd Vice President Ira Mont, Executive Director John P. Connolly
Photo: Steve Shevett
John P. Connolly is named Equity's new Executive Director. Although he calls Equity his parent union, Connolly has been serving as National President of AFTRA since 2001. "The decision to step down as AFTRA's President was difficult and heart-wrenching," Connolly says, "The remarkable truth about Equity and AFTRA is that each union is prepared and poised for a brilliant future."
1,200 friends and colleagues crowd into the St. James Theatre on Broadway for a special memorial to Patrick Quinn. The first Patrick Quinn award, for someone who has worked for the betterment of actors, is given to AEA Councillor Jeanna Belkin.
The Phantom of the Opera becomes the first show in history to reach 8,000 performances.
At Virginia Polytechnic Institute and State University, a male student kills two in a dorm, then 30 more in a classroom building two hours later before committing suicide. Fifteen more are wounded. The rampage is the most deadly in U.S. history.
A potentially Earth-like planet is discovered in the constellation Libra. Ah, but do they have theatre?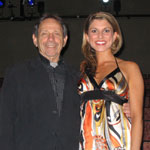 Alan Eisenberg and Janine DiVita
Photo: Equity News
Janine DiVita is the first recipient of the AEA/Alan Eisenberg Award in Musical Theatre.



Julie Harris
What's in a name? Quite a lot, apparently. A new stage at the Wellfleet Harbor Actors Theatre (or WHAT) in Cape Cod is dedicated for longtime supporter Julie Harris. In New York, the Snapple Theatre Center names one of its two theatres after actor Jerry Orbach.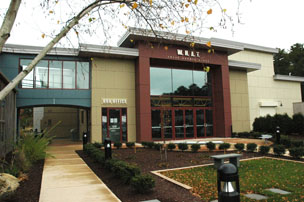 Wellfleet Harbor Actors Theatre
Photo courtesy of WHAT
---
As the summer heats up, the collective bargaining agreement between Local One, the Broadway union of stagehands, expires. While negotiations with the Broadway League begins, Local One agrees to work without a contract and assures other unions that it will not strike...for now.
No host for the Tony® Awards this year. Spring Awakening is the Best Musical and The Coast of Utopia by Tom Stoppard takes home Best Play. The Regional Theatre awarded this year is The Alliance Theatre in Atlanta.
New York City plays host to the first national Asian American Theatre Festival. The festival takes place in more than 25 venues throughout the city and is sponsored by the Ma-Yi Theater Company, the National Asian American Theatre Company and Pan Asian Rep.
What's in a name? The Non-Traditional Casting Project, long an advocacy group for full diversity on stage and screen, changes its name to the Alliance for Inclusion in the Arts. The League of American Theatres and Producers changes its name to The Broadway League.

Millions of kids and more than a few adults are both elated and depressed as Harry Potter and the Deathly Hallows, the final book in the famed series, is released. It sells over 11 million copies in the first 24 hours.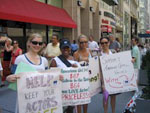 Is this what Ibsen meant when he wrote A Doll's Life? The 18 month dispute with American Girl Place on 5th Avenue comes to a head when an Administrative Law Judge from the National Labor Relations Board finds in favor of Equity. The Judge rules that American Girl Place committed various unfair labor practices. Equity led a two day strike there in 2006. "From Day One, this had been about the Actor's right to choose AEA as their collective bargaining representative," says National Director of Organizing and Special Projects, Flora Stamatiades.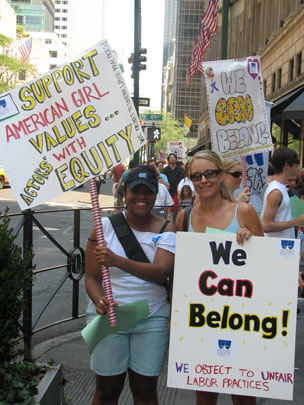 Calandra Hackney and Anne Teutschel with actors on strike at American Girl Place
Photo: Michael Cavaliere
Good teachers are good actors (and vice versa!) The Actors Work Program of the Actors Fund is approached by a national speakers bureau. They're searching for actors interested in motivating high school students choosing colleges.
David Westphal is named the first Equity National Chorus Business Representative. Westphal will be liaison with the Advisory Committee on Chorus Affairs and staff rep for the Gypsy Robe.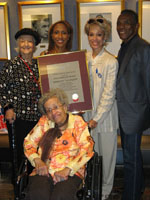 L-R: Phoebe Jacobs, Julia Breanetta Simpson, Mercedes Ellington, Andre de Shields
Front: Ruth Batts
Photo: Equity News
This year's Paul Robeson award goes to dancer, director and choreographer (and the granddaughter of a very famous jazz pianist/composer), Mercedes Ellington!
Talks have continued through the summer and early fall between Local One and the Broadway League, but no progress is being made. Local One/IATSE takes a strike authorization vote and it is unanimous: the union is given permission to strike if necessary. The next day, the Broadway League releases what it calls its final offer. Equity stands in support of Local One/IATSE. The autumn gets chillier. Stay tuned...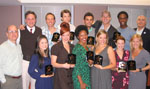 Cast of Legally Blonde receiving the first ACCA Award for Outstanding Broadway Chorus, flanked by AEA President Mark Zimmerman, 2 VP Jean Paul Richard
Photo: Stephanie Masucci
The Advisory Committee on Chorus Affairs Award for Outstanding Broadway Chorus or ACCA Award is established this year, designed to recognize the extraordinary work of the Chorus. This first year's award goes to the original chorus of the show Legally Blonde.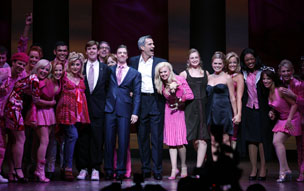 Choreographer Jerry Mitchell and the cast of
Legally Blonde
Photo: Walter McBride
The Writers Guild of America, East, and the Writers Guild of America, West, representing film, radio and television writers, begin a strike which will continue until February 12, 2008.
STRIKE! The Stagehands union begins the first strike in its 121-year history, shuttering 27 Broadway shows. Equity stands shoulder to shoulder with the stagehands. Equity members help to placate disappointed audiences with impromptu street concerts and picket line sing-alongs. AEA Executive Director John P. Connolly says that "Actors' Equity responded magnificently to this major crisis in the life of the American Theatre." The strike lasts for 19 days and ends on November 28th.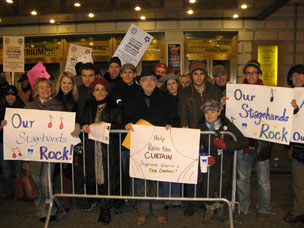 Actors support the stagehands' strike in front of the Lunt-Fontanne Theatre
The Western Region Equal Opportunity Committee hosts Equity's first Latino Theatre Symposium, Somos Todos Familia ("We Are Family") at the Los Angeles Theatre Center.
---