Protest inside the Wisconsin State Capitol oppose Governor Walker's budget bill
Mary McColl
Photo: Carol Rosegg
Equity's new Executive Director, Mary McColl, takes the reins as Carol Waaser retires from AEA after 28 years. McColl began her career as a dancer. "I always envisioned I would come to New York and work on Broadway. Here I am!" she says, "Not exactly dancing in a big musical, but that experience - that desire - has informed all the work I have done in my career."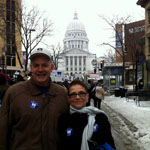 AEA ED Mary McColl and Central VP Dev Kennedy
AEA members join protestors in Wisconsin fighting against Governor Scott Walker's "budget repair bill" which would strip most public sector workers of their collective bargaining rights. On the lines with the teachers in Wisconsin is Equity member Janine DiVita, who says, "In my mind it was the least I could do to show my support for what Wisconsin unions are going through. Whether we want to face it or not, we must stand up for ourselves in times like these because once unions are attacked in one state, it is just a matter of time before our own union is threatened."
Celia Howard and Andrew Rondeau in Over The Tavern
Photo courtesy Geva Theatre Center
Geva Theatre Center in Rochester, NY is presenting Tom Dudzick's autobiographical play Over The Tavern with a unique and welcome twist: the character of Michael, Dudzick's brother born with Down Syndrome, is played by an actor with Down Syndrome! Eastern Regional Director Rick Berg says, "Actors with developmental disabilities have been almost entirely absent from our professional stages, and I'm thrilled to see Geva break this barrier."
In New York, the Alliance for Inclusion in the Arts and G-PASS have worked together to create the Broadway Accessibility/Audience Expansion Initiative, designed to give greater access in the theatre to audience members with disabilities. Kicking off with the new Broadway musical Catch Me If You Can, this program offers D-Scriptive, allowing blind or low-vision audience members detailed in-time detailed descriptions of the actions on stage; I-Caption, an automated system which displays verbatim texts of the entire show; and ShowTrans, providing foreign language patrons an integrated translation of the show.
Arizona Congresswoman Gabrielle Giffords is shot in the head by an attacker in Tucson. She survives the shooting, though six others around her are killed.
Queen Elizabeth of England celebrates her Diamond Jubilee, the 60th anniversary of her accession to the throne. In June there will be a public holiday in the U.K., which will include a maritime parade of boats on the River Thames, in which up to 1,000 boats will take part.



Egyptian President Hosni Mubarak resigns after widespread protests, leaving control of Egypt in the hands of the military until a general election can be held.
For the first time since 2005, the entire elected leadership of Actors' Equity meets together in New York City. What was accomplished? "Everything and nothing," says Nick Wyman, "Everything was put on the table and nothing was resolved - and this was by design." Categories for discussion include Organizing/Developing Theatre, Communication, Public Policy and supporting the non-office-city actor. "Having cast a wide net," says Wyman, "we gathered a dazzling panoply of ideas." These ideas will be used over the next year as the foundation for new programs and initiatives.
Opening tonight, with book, music and lyrics by South Park creators Trey Parker and Matt Stone, and Avenue Q writer Robert Lopez, The Book of Mormon is the runaway hit of the season, and will garner 14 Tony® Awards Nominations later this year.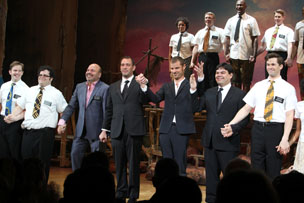 Cast of The Book of Mormon
Photo: Walter McBride
The one hundredth anniversary of the Triangle Shirtwaist Fire, what many believe was the beginning of the modern Labor movement, is marked in New York. Equity Member Joanne Borts writes, "As I stood with my fellow Equity members and our brother and sister unions, I was reminded that we also stand on the shoulders of generations of courageous women and men who risked everything they had for the future of the labor movement: A Better World."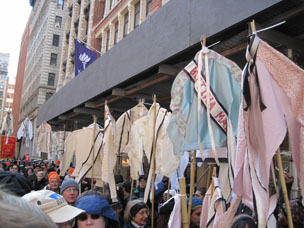 Shirtwaists bearing the names of those who died in the fire
Photo: David Lotz
An estimated two billion people watch the wedding of Prince William, Duke of Cambridge and Catherine Middleton at Westminster Abbey in London.
U.S. President Barack Obama announces that Osama bin Laden, the founder and leader of the militant group Al-Qaeda, has been killed during an American military operation in Pakistan.
Neil Patrick Harris is back as the Tony® Awards host this year and he gets rave reviews. War Horse wins Best Play and The Book of Mormon wins Best Musical. Alliance for Inclusion in the Arts receives a Tony® Award for Excellence in Theatre. The Lookingglass Theatre of Chicago wins for Regional Theatre.
It's that time again: with the Production Contract set to expire on September 25th, negotiations are underway this summer. Lead negotiator Mary McColl is hoping that, along with reinforcing essential elements of the Contract, a Labor-Management committee be formed to create "real conversations throughout the life of the contract about our workplace concerns." Negotiations will continue through August and September.
AEA signs a national agreement with RWS and Associates, a New York-based firm that produces entertainment for amusement parks.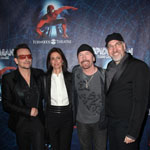 (L-R) Bono, Julie Taymor, The Edge and Philip William McKinley
Photo: Walter McBride
"With Great Power Comes Great Responsibility..." After a record 182 preview performances, bad word of mouth, injuries to the cast and a split between the producers and director Julie Taymor, Spider-Man: Turn Off The Dark finally opens at the Foxwoods Theatre. The high swinging show features songs by Bono and The Edge of U2 and a book by Julie Taymor, Glen Berger, and Roberto Aguirre-Sacasa.
Donald Grody, AEA's Executive Director from 1973 to 1980, dies at his home. He was 83.
Chicago becomes the longest running American musical in Broadway history when it surpasses A Chorus Line with its 6,138th performance.
The 75th Anniversary of the Weston County Playhouse in Weston Vermont is soured when Hurricane Irene hits The Green Mountain State. The basement of the Playhouse is flooded.
Weston Country Playhouse
After 23 years and over 9000 performances, George Lee Andrews is leaving the role of Monsieur Andre in The Phantom of the Opera. His son-in-law, Aaron Galligan-Stierle, is taking over the role.
Equity and the Broadway League reach a tentative agreement for a new four-year Production Contract. The new agreement includes enhancements in compensation, changes to Stage Manager work rules and safety and extraordinary risk changes.
When African American performers were barred from working at white theatres during the turn of the 20th century, a touring route of black performers and black audiences began, known today as "The Urban Circuit." Today the Urban Circuit reaches more than 1.5 million audience members annually. The Urban Broadway Series Contract is the first contact between Equity and a producer from that circuit. Producer David E. Talbert says, "I've always wanted to create an opportunity in which I could work with so many wonderful Equity performers and still recognize the importance of the circuit and the audiences who see my shows."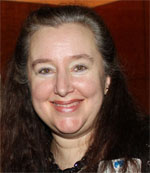 Christine Provost
Photo: Equity News
Christine Provost takes on the role of Central Regional Director/Assistant Executive Director after the retirement of Kathryn V. Lamkey.





The United States formally declares an end to the Iraq War.



---