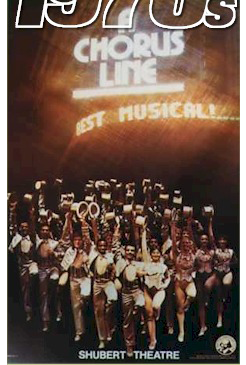 A CHORUS LINE, 1975
Martha Swope
This decade sees a welcome wave of musicals featuring African-Americans and African-American themes. This year, Joe Morton will star in the musical Raisin, based on Raisin in the Sun. The show will win the Tony for Best New Musical, and Virginia Capers will win Best Actress in a Musical. In 1975, Broadway will "Ease On Down the Road," as The Wiz wins Best Musical, Best Original Score, Best Featured Actor in a Musical (Ted Ross), Best Featured Actress in a Musical (Dee Dee Bridgewater), Best Costume Design, Best Direction, and Best Choreography, AND plays for over 1600 performances! 1976 will see Bubbling Brown Sugar celebrating Harlem in the Golden Years and a new production of Porgy and Bess, and Ain't Misbehavin' will win Best Musical, Best Director of a Musical, and Best Featured Actress in a Musical (Nell Carter) in 1978!
Stephen Sondheim's Company premieres at the Alvin.
The film library of the New York Public Library at Lincoln Center proposes to film or tape performances, which has always been against Equity rules. Equity Council approves this as a good compromise, allowing historical records while retaining the spirit of the rules.
Golden Bat, an off Broadway rock musical, is the first production taped for the NY Public Library's Theatre on Film and Tape Archive. Since then, Equity's support has enabled TOFT to create the foremost archive of its kind in the world, now numbering more than 3000 productions.
The Off-Broadway Strike


Geraldine Page and Rip Torn

Major points at issue: raises in minimum wage, Equity Shop for Off-Broadway, amount of contribution Off-Broadway producers pay into the pension fund. 17 shows are immediately affected. After weeks of unsuccessful negotiations, a State Mediator recommends Equity and the League go to binding arbitration, the first time Equity agrees to arbitration to settle a contract dispute. The strike is settled after 31 days: minimums are raised and Equity Shop is earned for Off-Broadway.
House of Representatives passes new unemployment insurance legislation which includes an amendment first proposed by Equity staff member Helene Tetrault in 1965. The bill will assist actors who move from state to state by requiring all states to participate in combined and extended plans and to use the same base period in determining such plans.
Paris peace talks continue as public pressure builds to end the Vietnam War. Four students are killed as National Guard troops fire on anti-war demonstrators at Kent State University in Ohio.
Equity joins the International Federation of Actors (FIA).
Stephen Sondheim's Follies opens at the Winter Garden.
Equity approves an Off-Loop Theatre Agreement (COLT) for smaller Chicago theatres. It becomes the CAT (Chicago Area Theatre) contract in 1983 following negotiations with the newly formed Producers Association of Chicago Area Theatres.
Jesus Christ Superstar begins performances at the Mark Hellinger.
The Off-Off Broadway Alliance, or OOBA, is formed.
That Championship Season opens at the Public. It will win this year's Pulitzer Prize for drama.
After Pippin opens tonight, it will become the first Broadway show to use footage in a television commercial.
The Geva Theater Center is established in Rochester, New York.
Richard Nixon is reelected President, although a botched burglary at the Watergate office complex in Washington D.C. will soon plague his administration.
Barnard Hughes wins the first Equity St. Clair Bayfield Award.
The first Equity Dinner Theatre contract is signed.
A Little Night Music by Stephen Sondheim opens, starring Glynis Johns, Hermione Gingold and Len Cariou.
With temperatures in the 90s, over 100 Equity members picket the Casa Manana in Fort Worth, Texas, whose management has declared that it will only use non-Equity actors. Executive Director Donald Grody says, "Fate and fortune have made Fort Worth our battlefield and we will be the victor." After negotiations fail, the theatre is finally forced to close. It will return next summer with a new Equity contract.
The League of New York Theatres changes its name to The League of New York Theatres and Producers.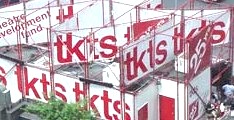 TKTS booth
Theatre Development Fund sets up the TKTS booth in Duffy Square in the theatre district, selling tickets for Broadway shows at half price.
Paul Robeson is the first recipient of the Equity award that will bear his name.
A one-day Off-Broadway strike ends with no performances missed. Equity agrees to increase the number of seats a theatre may have for an Off-Broadway production from 299 to 499. Don Grody writes, "we have opened the door to the possibility of a commercially viable Off-Broadway."
Equity helps to create regulations ensuring that theatres will stay heated during the Energy Crisis, and that buses will continue to be able to take school groups to the theatres.
Actors' Equity Association wins a special Tony Award for its "diligent and tireless effort on behalf of American actors."
In Chicago, the Steppenwolf Theatre Company begins producing plays in a church basement in Highland Park. Leading the company are Terry Kinney, Jeff Perry, and Gary Sinise.
In Philadelphia, Robert Hedley and Jean Harrison found the Philadelphia Company, later renamed the Philadelphia Theatre Company.
With the House recommending articles of impeachment over the Watergate scandal, Richard Nixon resigns the Presidency. He is succeeded by Vice President Gerald Ford.
A Chorus Line begins performances at the Public Theater tonight and creates a "singular sensation." It will come to the Shubert Theatre in July and eventually run for 6,137 performances.
The last Americans leave Saigon in the largest helicopter evacuation ever recorded. President Ford says the Vietnam War is "finished."
Chicago, with music by John Kander and Fred Ebb, opens at the 46th Street Theatre.
SHOWCASE SHOWDOWN
In August, Council releases a Code for Equity Showcases that generates a firestorm of criticism and debate. Required profit participation for Equity members should a showcase become a commercial production; reimbursement of out-of-pocket expenses; limiting Code benefits to paid up members only - these are the hot issues upsetting both producers and actors. On August 18th, Off-Off Broadway producers hold a packed-house rally at the Public Theatre, threatening to ban Equity members from their productions unless the Code is revised. A heated Equity membership meeting soon follows on August 25th at the Majestic Theatre. For over four hours members speak, and finally overwhelmingly vote to suspend the Code "until a new agreement is discussed by authorized representatives of Off-Off Broadway and AEA." Talks will resume in 1978, and the new Code will come in 1979.
Nine Broadway shows are shut down for 25 days when the Broadway musicians' union goes on strike.
Council adopts a new set of conditions for Off-Off Broadway, a "mini-contract," which will serve as a transition between the Showcase Code and the Off-Broadway Contract.
The Daily News headline says it all: "Ford to New York City: Drop Dead." In answer to Ford's inaction in New York's fiscal crisis, thousands of New Yorkers, including actors hoisting a huge Equity banner, come to Times Square for a rally in support of NYC.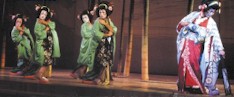 The Cast of PACIFIC OVERTURES, 1976
Museum of the City of New York
Stephen Sondheim's Pacific Overtures opens at the Winter Garden. The musical calls for 35 Asian actors. Casting director Joanna Merlin later recalled: "I was counting on the Equity Principal Interviews to supply us with the cast. One Eurasian appeared during the course of the three days of interviews and not one Asian..." It takes open auditions and active searching to fill the cast. The show is the Broadway, or the professional, debut for most of the company.
THE THEATRE OF NEPTUNE, by Canadian artist Ira Ginsberg, was presented to AEA by CAEA

Cheers! After 21 years, Equity and Canadian Equity celebrate their "amicable separation" in an historic ceremony at St. Lawrence Hall in Toronto. Previously one association, both Unions pledge themselves to fraternal cooperation, full reciprocity, and "the full and free interchange of their respective members across the international border."

John Kani and Winston Ntshona

Several hundred Equity members rally outside the offices of the South African Consulate in New York to protest the arrests in South Africa of John Kani and Winston Ntshona, the joint winners of the Tony Award last season for Sizwe Banzi is Dead and The Island. The two actors are released after serving 15 days in solitary confinement. All charges against them are dropped.
Jimmy Carter is elected President.
After extensive lobbying, Equity successfully persuades NY City and State agencies to establish Manhattan Plaza, a 1,600 unit Federally-subsidized housing complex primarily for performing artists. This development becomes the anchor for the revitalization of Theatre Row on 42nd Street.
Equity Library Theatre wins a special Tony Award for its 34 years of service "to our art and industry."
A group of agents files an antitrust suit against Equity.
With sets by macabre cartoonist Edward Gorey, Dracula rises from the dead tonight starring Frank Langella.
Equity's Volunteer Income Tax Assistance program (VITA) is established: members are helped with tax preparation by other members specially trained to deal with tax issues unique to performing artists.
Sign of the times: an Equity-sponsored workshop entitled "Stress, Anxiety and the Actor" draws capacity crowds.
Buried Child by Sam Shepard has its premiere at the Theatre De Lys Off-Broadway.
Ricardo Khan and L. Kenneth Richardson found New Jersey's Crossroads Theater Company.
"He shaved the faces of gentlemen, who never thereafter were heard of again..." Sweeney Todd opens at the Uris Theatre.
The Equity Area Liaison system is created, providing for a volunteer committee, selected by members, in cities having over 100 resident Equity members to act as a conduit between area membership and the appropriate Equity offices.
Committee to Save the Theatres is formed to fight the proposed demolition of the Morosco, the Bijou and the Helen Hayes theatres to make way for a huge hotel on Times Square by architect-developer John Portman.
After four years of debate and disagreement within Equity as well as throughout the Off-Off Broadway community, Equity Council institutes new Codes for New York City Showcases. The Codes contain provisions overwhelmingly approved by the membership in a tri-state referendum, which include increased ticket price and performance allotment for producers, and for actors a guaranteed share of the gross from theatres making over $25,000 a year.
Evita by Andrew Lloyd Webber and Tim Rice opens at the Broadway Theatre.
After two years, talent agents lose their antitrust suit against Actors' Equity. The decision will be appealed to the Supreme Court.
A crowd of 500 Iranian students seize the American embassy in Tehran. Fifty-two people are held hostage for over a year.