Back L-R: Third VP Ira Mont, Eastern Regional VP Arne Gundersen
Front L-R: Secretary/Treasurer Conard Fowkes, President Patrick Quinn, First VP Mark Zimmerman
That's a lot of broken chandeliers! The Phantom of the Opera becomes the longest running show in Broadway history with 7,486 performances. 244 Equity members have appeared in the New York production, with 11 actors playing the tormented Phantom over the years.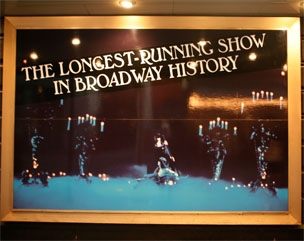 The theatre world mourns the death of playwright Wendy Wasserstein. Among her many other triumphs, she won the Tony® Award for Best Play and the Pulitzer Prize for Drama in 1989 for The Heidi Chronicles. Patrick Quinn: "She was an extraordinary person, and her plays offered so many employment opportunities for members of Equity. The loss to the American theatre is inestimable."
The Associated Actors and Artistes of America awards jurisdiction of the Hebrew Actors' Union to Equity. The Hebrew Actors' Union covers presentations performed in whole or in part in Yiddish and/or Hebrew.
Hot Flash! The Chicago production of Menopause The Musical performs it 1000th performance at the Apollo Theatre in the Windy City.
The East West Players, the nation's first Asian American theatre company, celebrates its 40th anniversary in Los Angeles.
The Pittsburgh Civic Light Opera's first home at Pitt Stadium, Pittsburgh 1946
Photo courtesy of PCLO
Happy Anniversary, but let's keep it light! Pittsburgh declares today CLO Day in honor of Civic Light Opera's 60th Anniversary!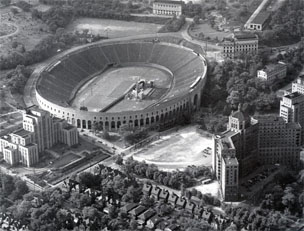 Pitt Stadium, Pittsburgh
Photo courtesy of PCLO



Kevin Kline Award
Image courtesy of Professional Theatre Council of St. Louis
Named after Missouri native and Shakespearean extraordinaire, the first ever Kevin Kline Awards are given out tonight at the Roberts Orpheum Theatre in St. Louis.


Equity 2.0: Equity launches the first major update to its website in seven years. A redesigned members' profile section allows members to manage their own contact, financial and security information, pay dues and initiation fees online, and garner information about franchised agents, and Equity agreements.
Coconut Grove Playhouse's 50th anniversary celebrations are short-lived; the theatre closes in an avalanche of accumulated debt.
"Boys" are the big winners at this year's Tony® Awards as Best play goes to History Boys by Alan Bennett and Best musical is Jersey Boys! Intiman Playhouse in Seattle wins the Regional Theatre prize.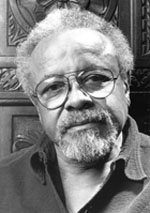 Lloyd Richards
Director, actor and Dean of the Yale School of Drama from 1979 to 1991, Lloyd Richards dies today at the age of 87.




After resigning the Presidency, Patrick Quinn is selected by Equity Council as the ninth Executive Director in Equity's history.
3rd VP Ira Mont, President Patrick Quinn, 1st VP Mark Zimmerman
Photo courtesy of the Barrow Group
Just days before taking the role of Equity Executive Director, Patrick Quinn dies of a massive coronary at his summer home in Pennsylvania. A member of Equity since 1970, Quinn helped organize Equity Fights AIDS in 1987. Alan Eisenberg writes, "As a working actor, Patrick knew the challenges and uncertainties that actors face, because he faced those challenges himself. He knew what our members needed and worked hard to achieve them. He gave of himself at every opportunity - at the bargaining table, at benefits, as a Trustee, on picket lines, and as our beloved President - all for his fellow actors."
In an emotional Council meeting, Mark Zimmerman is elected Equity President, and Alan Eisenberg holds his last meeting after 25 years as Equity's Executive Director. In lieu of a party, Council agrees to contribute money to establish a Musical Theatre program at the University of Michigan, Eisenberg's alma mater.
Twitter begins its 140 character reign online.
A Chorus Line is back where it belongs, in a new Broadway revival that opens today at the Gerald Schoenfeld Theatre. The show features Charlotte d'Amboise as Cassie.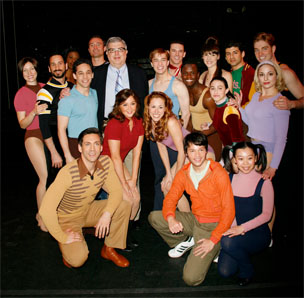 Cast of
A Chorus Line
with composer Marvin Hamlisch
Photo: Walter McBride
The U.S. Census Bureau estimates that the population of the United States has reached 300 million.
Former Iraqi President Saddam Hussein is sentenced to death.
Spring Awakening explodes onto the stage with the unusual but potent mix of German playwright Frank Wedekind's story of teen angst mixing with a rock score by Duncan Sheik and Steven Sater. The show becomes so popular that the top ticket price will exceed $250.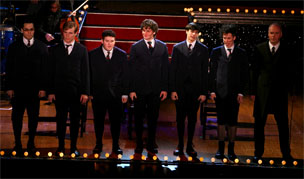 Spring Awakening
cast featuring: Skylar Astin, Gerard Canonico, John Gallagher Jr, Gideon Glick, Jonathan Groff, Robert Hager, Brian Charles Johnson and Jonathan B. Wright
Photo: Walter McBride
---